Hopwood Hall College ranked UK's most diverse education provider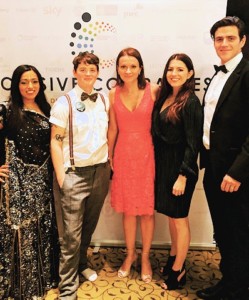 Hopwood Hall College have been officially ranked the UK's most diverse education provider by the Inclusive Companies after coming 14th in the Inclusive Top 50 UK Employers list.
Right behind Hopwood Hall College in 15th place was The Open University. The University of Manchester was in 28th place and The University of Bristol Students' Union was in 43rd position as the only other three education-based organisations to make the Top 50.
Compiled by a dedicated panel of judges, the list has been collated based on each organisations performance in a range of areas within the diversity arena. Organisations must show sufficient evidence on an amalgamation of topics including recruitment procedures, training and a host of diversity related initiatives.
The college's ranking meant they have achieved greater employee diversity than international giants such as Allianz, E.ON, RBS and HSBC.
Speaking at the awards night, Hopwood Hall College's Executive Director, Caroline Street, said: "At Hopwood Hall College our values have a strong focus on equality of opportunity and treating everyone with respect.
"We're proud to once again be listed in the Top 50 Inclusive Employers list, a fitting recognition of our commitment to equality of opportunity for all and celebrates the inclusivity of the college as a place to work and learn. We will continue to strive for further improvement and to advance diversity and inclusivity within the college going forward."
Source – Rochdale Online . co . uk