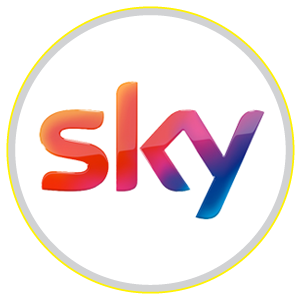 Ranked No.1 – 2019/2020
Europe's leading media and entertainment company, Sky has ranked number 1 for the first time ever on The Inclusive Top 50 UK Employers List 2019/2020, having jumped 2 places from the previous year. Serving 24 million customers across seven countries, their 31,000 employees help connect customers with the very best of Sports, News, the arts and to their own local, original content. Their technology allows customers to watch what they want, when they want, how they want, and as they connect millions of families to content they love, it is their responsibility to do it safely through services such as Sky Broadband Buddy and the Sky Kids app. And their online streaming service, NOW TV, brings viewers all the enjoyment of Sky with the flexibility of a contract-free service. The Sky Ocean Rescue campaign has reached millions across Europe, and they're on track to be free of single-use plastic by 2020, investing £25million over five years in ocean-saving tech. Sky are also a proud employer – signed up to disability confident and a Race at work signatory, as well as being recognised by The Times, Stonewall and now as the UK's most Inclusive Employer.
You might think a big organisation like Sky would have a large inclusion team, but they don't, because they believe a sustainable approach is empowering every team to understand any inequality and take action. It is evident that Sky are tapping into their own inherent sense of fairness and the times they've felt excluded, to connect their people with purpose and make the changes needed both today and in the future.
Sky has six thriving employee networks, each with an executive sponsor who guide them to focus on what matters most. These volunteer led communities have the freedom to push boundaries and agitate for change through the creation of bottom up pressure and a collective voice, to make life at Sky great for everyone both on screen and behind the scenes. At Sky, inclusion is everyone's responsibility.
Their inclusion vision, strategy, plan and updates about the progress they're making against the plan, are all shared on an intranet site called inclusion@sky. Here employees can find hints and tips on how to actively include people every day, join one of their employee networks, get inclusive Sky programming recommendations to watch with friends and family at home, or ideas for getting their team together to run a session on understanding the impact of inclusion on the business, familiarise themselves with unconscious bias or build confidence talking about race. Employees can also catch up on Sky's inspiring internal inclusion events on demand if they couldn't attend them in person. Since the site launched in September 2017, the 'Vision', 'Get Involved' and 'What's going on?' pages have been the most visited.
An 'Inclusion Newsletter' goes out every fortnight to the Inclusion Executive Steering Group, and to the vast network of people who champion inclusion right across their business. A 'Monthly Managers Email' is sent out to all people managers and provides a regular channel to share inclusion guidance, training, updates, achievements and notable dates.
Sky's approach to recruitment is to look for people who'll help deliver more of what their customers love, and build teams that benefit from demographic diversity and diversity of thought, experience and contribution. To help with that, Sky focus on inclusive recruitment. They recognised a real appetite to develop new initiatives and have captured the best of everything into an inclusive recruitment guide, so they can collectively influence the recruitment industry and support their hiring managers each time they have vacancies.
Sky's two core values are Collaborative and Inclusive and Fair and Responsible. These provide robust pillars against which to set expectations and promote the importance of inclusion throughout all stages of the employee lifecycle. From when they attract, recruit and on-board people into their team right the way through their growth and development journey with Sky. And because research shows delivering diversity and inclusion training in a mandatory, wholesale way doesn't improve outcomes and often has a negative impact, they don't do it. Instead Sky are baking diversity and inclusion into all manager and leader development resources, materials and learning journeys.
Everyone at Sky can take 2 paid days each year to volunteer and whether it's part of a companywide initiative or something closer to home, people can choose how to spend their time. Sky Cares launched this year with feedback from 700 employees across 17 sites and 77 business areas, and 92% said they want to do more in their local community. Since the launch 1600 people across UK and Ireland have volunteered, through 70 activities with 20 new charity partners.
For children affected by the fire at Grenfell tower, Multiculture@Sky and Parents@Sky arranged a coach to bring them into campus, hear from people from a BAME background sharing their career stories and a trip to Sky Academy a free and immersive experience for school children to see what a career in entertainment and media would be like.
Sky Academy works with young people to build skills and experience. Bringing schools and inspirational role models together, it's supported by volunteers and well-known faces from Sky's TV Channels, to offer a range of opportunities. Sky Academy Skills Studios is a half-day interactive learning experience giving eight to 18-year-olds the chance to use the latest broadcast technology to make a TV report on subjects they're studying at school. Nearly 20,000 young people from right across the UK's social and economic spectrum attended a Sky Skills Studio learning experience last year.
Sky recognises the significant lack of gender diversity in the IT industry, and by introducing more women into this talent pool, they hope to increase diversity in the technology teams at Sky. Sky's Get into Tech initiative provides a unique and supportive environment in which women with little or no previous technical experience can learn some of the skills necessary to begin a career in technology. So far 190 people have been through the programme and 40 have taken permanent roles with Sky.
In addition, Sky's Women into Leadership Programme, is an apprenticeship for women in the middle management layer, providing a pipeline of future female leaders to help Sky achieve their ambition of being an employer of choice for women with a 50/50 leadership team. The programme runs for 24 months and participants gain a diploma level equivalent leadership qualification. Sky also launched a pilot in partnership with Women Returners to attract people with senior experience and a career gap of 2 or more years onto a 6 month paid placement.
Six of their business areas with targets for BAME have developed local mentoring programmes, where leaders meet with someone from a BAME background to hear about what life at Sky and life in general is like. Sky have also launched a programme to connect people with different life experience across the organisation, to bring fresh perspectives to thinking, and provide a broader understanding of leadership at Sky.
In 2019, LGBT+@Sky partnered with LGBT radio station Gaydio to explore what it means to be LGBT+ and highlight the incredible work they do at Sky to 2 million listeners. The Proud to Be Me campaign is empowering Sky colleagues to share their stories, focus on the fringes of the LGBT+ community and engage with local organisations and charities.
It is clear that the people at Sky make the organisation Europe's leading entertainment company. Evidence shows that Sky strive to create an environment of involvement, community and learning, where the richness of ideas, backgrounds & perspectives are harnessed to serve their customers and portray their lives on screen.
---