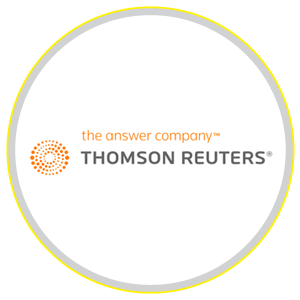 Ranked No.3 – 2019/2020
Thomson Reuters is the world's leading source of news and information for professional markets. The company has been ranked the UK's 3rd most inclusive employer in 2019/20, jumping 15 places from the previous year. Thomson Reuters customers rely on them to deliver the intelligence, technology and expertise they need to find trusted answers. The business has operated in more than 100 countries for more than 100 years.
By working in partnership with their leaders, business units and employees; Thomson Reuters continue to improve how they recruit and retain a talented, diverse workforce. They emphasize management accountability and over the past few years have made diverse candidate slates and diverse interview panels for all – not just senior – roles. They have a dedicated focus to diversity and nurturing talent across all areas of their business.
Employees are the heart of Thomson Reuters and ensure that they continually have the tools and resources to remain at the cutting edge of the work they do. In 2017, employees were offered an incredible 2,756,924 number of hours of training at an average of 54.2 hours per employee. They have many programmes in place for employees at every level to get the training that they need, relating to diversity and inclusion (D&I). As employees join the organization, they must complete a D&I e-Learning course. This course is designed to build the business case for D&I; explain the Thomson Reuters definition; introduce key concepts such as the iceberg model and micro-inequities and give all employee's suggestions for how to get involved and take action.
Following this initial course, diversity and inclusion is built into everything they do at Thomson Reuters. They offer a course for employees at all levels on Culture and Values; which highlights how to be an inclusive leader, how diverse styles lead to better outcomes and how to spot your own blind spots. Their Management at Thomson Reuters course reinforces the learning about building diverse teams and offers a specialized module on unconscious bias.
For more advanced managers, they build in the concepts of diversity driving innovation, while reinforcing the concept of unconscious bias. As well as these formal programmes for all, they offer anytime learning through their intranet and learning portal. Key topics addressed here are; Unconscious Bias, Micro Inequities, Global Mindset & Cultural Fluency, Gender, Generational Difference, Disability, Lesbian, Gay, Bisexual, Trans (LGBT) Topics, Race and Ethnicity, Work styles and Veteran needs. The organisation also uses Culture Wizard to ensure that employees have the tools they need to do business globally.
In addition to D&I being part of their broader learning strategy aimed at all employees, they also offer specific sessions for diverse talent, such as the following gender specific programmes: Emerging Women in Leadership, Leadership Programme for Women, Lead'her'ship Programme For Women in Technology and the Leading in Growth Markets programme for Women. They continue to expand these programmes as needs are identified.
Based on the success of their approach to gender and in-depth benchmarking, Thomson Reuters launched the Black Talent Taskforce made up of senior executives from across the business dedicated to building the pipeline of black talent. As part of these efforts, they have launched sessions with internal and external speakers on race, they trained human resources teams on micro-aggressions and offer unconscious bias training for all of their managers.
Thomson Reuters has a long history of community involvement across the world. Their global Corporate Responsibility & Inclusion function leads on local volunteering efforts and community investment programmes, offering all permanent employees 2 paid days a year to volunteer for causes they are most passionate about. Additionally, their generous matching gifts programmes offer all employees $1,000 a year to match charitable donations, fundraising or their volunteer time.
They have employee-led groups called "Global Volunteer Networks" (GVNs) in 64 countries around the world; in the UK, their GVNs commit to hosting fundraising and volunteering efforts for local eligible non-profits or accredited schools. They also run regular Reading, Chess & Number Partner schemes through local Education Business Partnerships, and host mentoring sessions, career insight visits and work readiness sessions for young people in Tower Hamlets, Hackney and Southwark. Their charitable partnership with Apps for Good has seen 50,000 young people receive education in technology skills relevant to the workplace.
Thomson Reuters have delivered a talk on the represents of being black and gay in partnership with black out UK, a Gay Men's network for Black and Queer Men in the UK. The session was informing employees on the impact of identifying as part of the LGBT community and the African Caribbean community and the impacts it might have in the workplace.
Thomson Reuters aims to foster an inclusive environment in which all employees are valued, respected, and encouraged to contribute to their fullest potential. In line with this goal, Thomson Reuters has established a formal process for employees to develop Business Resource Groups (BRGs). BRG's are voluntary, employee-driven associations that benefit both employees and the company's business goals.
All networks are global with about 30% of the Thomson Reuters employee population engaging in their activities. Each year, BRGs host more than 200 events around the globe. These events have previously focused on developing an inclusive workplace, attracting diverse talent and partnering with customers to tell some remarkable stories about the value of diversity; for example, both their Black Employee Network and their Asian Affinity Networks hosted sessions on how to talk about race in the workplace and their Pride at Work network has joined with local charities to bring awareness and education of HIV and AIDS to employees as well as a better understanding of the older generation of LGBT people via their work with open doors. Their Women at Thomson Reuters group partnered with the UN on a We4She campaign that garnered 49,000 internal likes and comments on their intranet, and their Early Careers Network took part in One Young World. Thomson Reuters networks also hosted internal innovation fests that generated a number of new product and process ideas.
As a company, Thomson Reuters are committed to growing diversity and building an inclusive workplace internally, while also providing products and services to meet the diverse needs of their clients. The launch of the Thomson Reuters Diversity and Inclusion (D&I) Index, Powered by Thomson Reuters Environmental, Social and Governance (ESG) data, analyzed the practices, policies and performance of over 5,000 global companies to develop the D&I Index based on 24 metrics across four broad pillars of diversity, inclusion, people development and controversies. This product demonstrates how their own data and information are creating transparency as well as confirming the clear link between positive financial performance and diversity and inclusion to the business world.