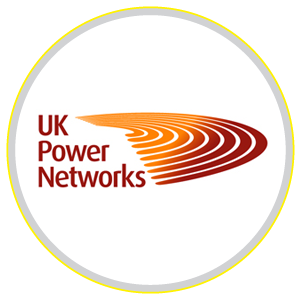 Ranked No.5 – 2019/2020
UK Power Networks ranked 16th in the Inclusive Top 50 UK Employers List in 2018/19, however, their comprehensive package of D&I initiatives has secured them a place as the UK's 5th most inclusive employer this year, demonstrating significant improvement across the organisation.
UK Power Networks is the country's biggest electricity distributor, making sure the lights stay on for more than eight million homes and businesses across London, the South East and the East of England so that over 18 million people are able to stay connected and go about their daily lives uninterrupted.
The company continues to be listed in the Sunday Times' Top 25 Best Big Companies to Work For, moving into the top 10 for the first time in their history. They are also the first Distribution Network Operator to be awarded the National Equality Standard (NES) accreditation. They invest more than £600 million in their electricity networks every year, offer extra help to vulnerable customers at times of need, and are undertaking trials to ensure that electricity networks support the transition to a low carbon future.
2018/19 has been a period of sustained focus on D&I at UK Power Networks, delivering against the commitments they set out. Diversity and inclusiveness is one of six company values, they understand its importance as a key enabler to delivering high levels of performance within UK Power Networks. Their CEO talks passionately about diversity and the benefits that a diverse workforce can bring at leadership conferences and engagement sessions. This public endorsement of their work on D&I at these conferences in front of 600 line mangers makes a real difference. Important messages are then understood and consistently cascaded to all of their employees.
Since their previous submission, UK Power Networks have moved at pace to implement their commitments to drive meaningful change that benefits their employees. They have implemented 'Equally Yours' training for all employees, developed an independent employee EMPower Community, focused on supporting those with mental health issues, training 170 employee mental health first aiders and earlier this year took part in their first Pride event.
Their recruitment strategy has evolved significantly. Through targeted recruitment and working with vulnerable communities, BAME groups and the Women In Utilities network, they have achieved a 23% increase in applications from BAME backgrounds as well as approaching an application rate for females of one in four for the 2018/19 period.
For the second year they have applied blind CV screening for their early careers programmes. The process remains successful and the impact has resulted in finding the best candidates for the role by managing biases throughout the process. UK Power Networks have increased their BAME intake this year from 12.5% in 2018 to 16% in 2019.
They have increased their focus on mental health awareness starting with the Executive Management Team (EMT) who took part in a Mental Health Awareness course delivered by Mental Health First Aid England and their in-house mental health trainer. This is part of a companywide wellbeing initiative, WorkingWell, launched in response to employee feedback. Over 200 employees have now been trained as Mental Health First Aiders. They also produced a series of hard hitting videos depicting UK Power Networks' employees opening up about their own struggles with mental health. This activity combined with those mentioned helped to break taboos around mental health and has led to increased usage of their Employee Assistance Programme for mental health related conversations.
In 2019 UK Power Networks introduced D&I moments – awareness training within the monthly team briefs, their most popular communication channel viewed by approximately 86% of employees. This is a series of thought-provoking statements and questions aimed at raising awareness of the importance of D&I through conversation and peer to peer learning, encouraging employees to discuss and feedback on a variety of D&I topics.
Understanding that leadership buy-in is essential to drive change, UK Power Networks recorded a series of new videos asking leaders to talk about what inclusive leadership means to them. Best practice is shared among their 800 leaders to ensure that they role model the correct behaviours and support their leaders learning development.
UK Power Network's' commitment to supporting those with dementia saw them create 4,000 employee 'dementia friends', able to support vulnerable customers particularly those affected by dementia. And as part of their 2019 International Women's Day celebrations they asked staff to donate clothes for the women's charity Smart Works. This charity provides clothing and interview training to unemployed women in need of jobs. One in two women helped by Smart Works successfully secures a job. Employees donated over 40 bags of high quality interview-appropriate women's clothes.
UK Power Networks' EMPower Community launched during National Inclusion week in 2018, pulling together disparate employee networks under a central umbrella that would be able to accelerate equality and inclusion within UK Power Networks. Since launching, they have surged from 36 passionate members, to over 180 people, comprising of employees at all levels within the organisation.
The organisation has retained its Action on Hearing Loss Accreditation "Louder than Words", which demonstrates that UK Power Networks are striving to offer excellent levels of service and accessibility for customers and employees who suffer from hearing impairment.
In addition, they have a whole programme of work to support their Vulnerable Customers and diverse customer groups. One of their key focus areas is to identify customers who are more vulnerable during a power cut, this can be for any reason from disability, impairment, speech, young children etc. to register them on their Priority Services Register. This enables both contact centre teams and field engineers to be aware of individual customers' needs.
This year has seen sustained focus and significant growth in UK Power Network's D&I activity. It is evident that UK Power Networks feels a responsibility to ensure that D&I continues to be a key focus area, not just among their employees but also more widely among the communities they serve as a respected corporate citizen.
---