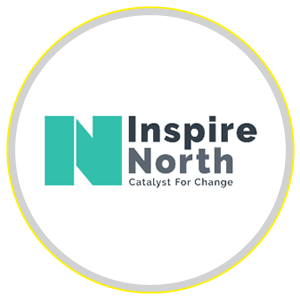 Ranked No.8 – 2020/2021
Inspire North brings together the work of Community Links and Foundation, two outstanding charities with decades of experience in mental health and housing. Their award-winning services and accredited training in mental health, wellbeing, housing and domestic abuse has contributed to them featuring at 8th place on the Inclusive Top 50 UK Employers List 2020/21.
As a parent organisation Inspire North bring together this expertise and find innovative ways to provide the very best for the communities they serve, working across the north of England, from Durham to Greater Manchester. Their company vision is 'Creating a World Where Everyone Matters'. People are the heart of everything; they strive every day to build brighter futures for the people who use their services. With just 450 employees, they engage colleagues and people who use their services to build a sense of community and shared success.
Inspire North hold a number of external accreditations across the Inspire North Group including Investors in People, Best Companies, Sunday Times Top 100 Best Not-for-Profit Organisations, Customer Service Excellence Award, Stonewall Diversity Champion and Mindful Employer. They are also a Living Wage Employer and have been awarded Level Three Disability Confident Leader status by the Department for Work & Pensions. (DWP) – the highest accolade achievable in the new Disability Confident scheme.
Inspire North has renewed its commitment to diversity and inclusion by setting itself the challenge that Ending Racism Is Everyone's Business. Their commitment to Black Lives Matters was agreed by the Board and Senior managers in June 2020 through the development of an initiative to accelerate the implementation of their Diversity policies and practices. Their intention is to build on the foundations they have already laid on their journey to becoming an Inclusive top 50 company in continuing to create a work environment where people from all backgrounds are included, and have the opportunity to thrive. Thus, Inspire North has signed up to the UK's first nationwide pledge to reduce ethnic and racial inequalities in mental healthcare.
---
View the full Case Study as an Inclusive Companies Member
---