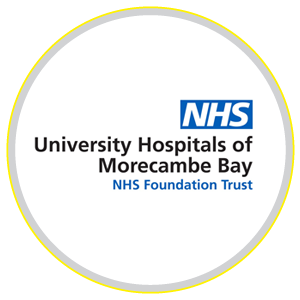 Ranked No.1 – 2020/2021
Last year, University Hospitals of Morecambe Bay NHS Foundation Trust (UHMBT) were the highest-ranking public sector organisation on the List. Building on that momentum and with numerous resources devoted to Diversity & Inclusions (D&I), it is no surprise that for the first time ever they have ranked 1st on The Inclusive Top 50 UK Employers List 2020/21.
UHMBT provides community and hospital services across the Morecambe Bay area, an area covering a thousand square miles from Millom, across south Cumbria and covering Lancaster, Morecambe and north Lancashire. It operates the three hospital sites – Furness General Hospital in Barrow, the Royal Lancaster Infirmary and Westmorland General Hospital in Kendal, as well as numerous community healthcare premises across the area. They provide integrated hospital and community services, as well as working with partners across nine Integrated Care Communities in the area, grouped around GP Practices.
They have made significant progress in striving to become 'Effortlessly Inclusive'. Ensuring the best possible experience for colleagues and patients is at the heart of their Inclusion and Diversity Strategy – understanding and learning from current lived experience, to make improvements that are far reaching and make a real difference to people in their communities. UHMBT has a number of procedures to help staff understand the organisations commitments to equality of opportunity, which starts on the employee journey even before they begin in post. They have a public facing webpage for Inclusion and Diversity which enables staff and patients to understand how seriously they take equality and diversity. On that page are their annual reports for inclusion and various action plans together with their overall 5 year 'Towards Inclusion' strategy (2016-2021), as well as monthly inclusion newsletters and information about inclusion networks.
Following on from the recruitment process, their corporate induction which is mandatory for all staff, covers information and contact details for their inclusion networks for colleagues (covering BAME, LGBT+, Gender, Forces, Respect, Personal Fair and Diverse champions and Carers) and a Network for Inclusive Healthcare. In addition, they have a mandatory Equality and Diversity training course, which is essential to all roles that staff complete every three years.
---
View the full Case Study as an Inclusive Companies Member
---