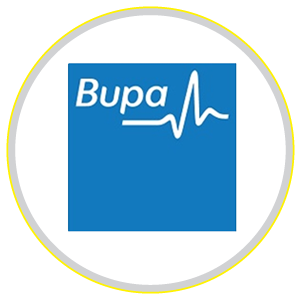 Ranked No.3 – 2021/2022
A strong submission from Bupa Global & UK has seen the international healthcare group increase their ranking by 6 places, cementing their highest position yet as the UK's 3rd most Inclusive Employer on the 2021/22 index. With over 25,000 employees and serving over 5 million customers, Bupa is a leading player in the health insurance market and the largest health insurer in the UK. Bupa Global is the premium health insurance arm of Bupa, providing individuals, small businesses and corporate customers international coverage to access the healthcare they need, when they need it, whether at home or when studying, living, travelling or working abroad.
Bupa also has over 470 dental practices, treating 2.4 million patients every year, and over 120 care homes and 10 retirement villages caring for 6,000+ residents. In addition, Bupa operates around 50 health clinics across the UK, as well as the Cromwell Hospital in west London, which offers world-class care to patients to patients from the UK and abroad.
Carlos Jaureguizar Ruiz-Jarabo, CEO at Bupa Global, India & UK, said "Diversity and inclusion sits at the heart of Bupa Global, India & UK. It is essential that everyone feels welcome and that they are able to bring their whole selves to work every day. Having a diverse workforce is also important as it is reflective of our customers, who are from every community. We know there is always more to do, where we want to every person to be able to be at their best and grow their careers at Bupa."
Bupa's progress within diversity and inclusion has been significant over the past few years. Since 2019, two of their Executive team members have actively sponsored inclusion and raised its profile within Bupa Global & UK and across Bupa globally. They have supported a new employee network that was co-created with their people, opening doors and removing barriers with Network Leads. They created real presence of D&I around the Executive table, ensuring all aspects of D&I are regularly on the agenda and holding peers to account on commitments and actions.
In 2020, Bupa step-changed its ownership of inclusion, with the wider Executive Team proactively taking their business-wide inclusion strategy and creating bespoke inclusion plans for their specific business areas. A sample of these local plans are discussed regularly at Executive Team meetings to share best practice and learnings, and track progress on the inclusion agenda. This ensures their inclusion strategy is business and leader-led rather than falling to HR teams to lead.
Bupa's existing campaigns continue to drive inclusion across the business. Since 2017, Bupa's Executive Team and Senior Leadership Team have acted as mentors on their annual, external programmes with Moving Ahead. In 2021, this evolved to being mentors and sponsors on their new internal sponsorship programme, Bupa Include. This programme is designed to support the career progression of underrepresented communities into more senior or complex roles. Their Executive and senior leaders regularly role model storytelling to celebrate diversity, to show vulnerability and authenticity. They also proactively volunteer to host live storytelling sessions to be active allies of their people on subjects such as race, gender, faith, disability, family, sexuality and age. Not only do Bupa's people value these sessions but their leaders come away with real insight into others' lived experiences and being energised to create inclusion around them.
---
View the full Case Study as an Inclusive Companies Member
---