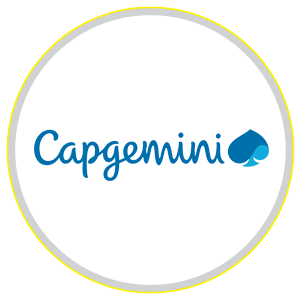 Ranked No.1 – 2021/2022
For the first time ever, a technology services and consulting company featured in 1st place on the Inclusive Top 50 UK Employers List, with Capgemini UK ranking above all other employers and increasing their position by an astonishing 17 places. Capgemini is a global leader in partnering with companies to transform and manage their business by harnessing the power of technology. The Group is guided everyday by its purpose of unleashing human energy through technology for an inclusive and sustainable future.
Over the last 18 months, they have shown resilience and agility while continuing to drive their inclusion strategy, listening and engaging to mitigate the longer-term impact of the pandemic on their people. Sustainable change takes time, but through their continued focus on active inclusion, Capgemini are building not just a 'new normal' but a 'better normal' for all to feel included and thrive.
Amongst recognition as the UK's Most's Inclusive Employer, in the last five years Capgemini have consistently ranked in the Times Top 50 Employers for Women (top ten per cent of organisations in the last decade), increased from #269 to #55 in the Stonewall Workplace Equality Index, top 75 employer in the Social Mobility Index over the last four years, gained Silver in the Armed Forces Covenant and recognised with Silver in the Mind Workplace Wellbeing Index.
Paul Margetts, Managing Director, UK Business Unit, Capgemini said, "At Capgemini UK, we know that diversity and inclusion is critical to our success – it underpins our people's experience at work, it's integral to building relationships with our clients, and it's key to innovating for the sustainable and inclusive future that we want. On a personal level, I am proud to be a member of our Group Diversity & Inclusion Board and to sponsor Active Inclusion in the UK, where we have led Capgemini's first ever global Diversity & Inclusion survey across 47 countries."
Capgemini's Group Executive Committee and Group Diversity & Inclusion Board drive global diversity policy and initiatives. Their UK Managing Director is a member of the latter and ensures these are reflected in the priorities and responsibilities of UK senior leadership. In the UK, the Country Board sponsors their Active Inclusion strategy, with each Board member accountable for actions within their Business Areas. Each proactively holds annual diversity action planning sessions with their leadership teams on how to attract, retain and develop team members. Active Inclusion is also the first agenda item for all UK Board meetings.
In addition, Board members ensure their commitment is visible to Active Inclusion, through regular communications, participating in events and providing updates against actions. Their Active Inclusion Steering Group comprises of committed VP Business leaders and senior HR leaders, meeting every six weeks to track progress, plan future activities, lead internal campaigns, and define strategic actions. For example, addressing impact of the pandemic on different groups in their organisation, creating safe spaces for brave conversations.
---
View the full Case Study as an Inclusive Companies Member
---