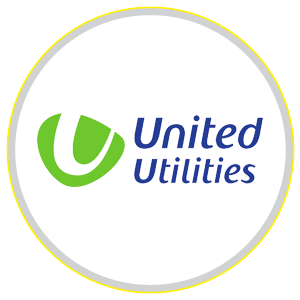 Ranked No.7 – 2021/2022
Listed as an FTSE Top 100 company, United Utilities have successfully ranked at Number 7 on the Inclusive Top 50 UK Employers List 2021/22, participating, and featuring for the first time since the inception of the index. With a 5,000 strong workforce United Utilities is the UK's largest listed water company, delivering 1.8 billion litres of water every day to more than 3 million homes and business' in the North West including Cumbria, Greater Manchester, Lancashire, Merseyside and Cheshire.
A position within the Top 10 reflects the exceptional standard to which this organisation operates. With a commitment to driving equality and providing diverse working environments for all employee's, United Utilities has worked hard to address areas of improvement and to deliver high impact initiatives and strategies to actively execute tangible solutions. A main priority at United Utilities is to reinforce the organisations commitment to ensuring visible representation and influence of senior leadership. With a range of dynamic employee resource groups implemented across the business to support employees within marginalised communities, Senior Executives at United Utilities have each taken on Executive Sponsor Roles, supporting and assisting each network to deliver tangible outcomes for employees. United Utilities recognise that leaders have a clear role when it comes to championing D&I across the business and this was evidenced in their comprehensive submission, highlighting that monthly leadership sessions take place, serving as a platform for knowledgeable external speakers to address Senior Managers and Executives on topics such as Disability Inclusion in the Workplace and Gender Equality.
Traditionally, the utilities sector is male dominated. United Utilities recognise the need to attract diverse and talented individuals with an interest in science, technology, engineering and maths (STEM) and have a focused approach to improving the gender diversity of their workforce. They display a high level of support for the future female talent through their focused 'Female Leadership Pipeline' and 'Aspiring Manager' programmes which have been designed to support female employees into managerial positions. In addition, their award-winning gender equality employee network 'GENeq' provides a safe and supported environment for employees to share honest feelings, views, opinions, and challenges. When looking at the next generation of talent across the industry, United Utilities have successfully implemented an award winning 'Engineering Masterclass' inspiring the next generation of diverse students from disadvantaged backgrounds to pursue a STEM related career. The impact of this programme is palpable with United Utilities taking approximately 300 students through the curriculum.
An increase in female representation at both Board Level and Senior Management Level indicates clear progress has been made across the organisation over the past 5 years. With over 40% female representation at Board level and 32% of women taking up Senior Management positions, this growth fulfils United Utilities commitment to the 30% Club Campaign – a business-led campaign to boost female representation at board and C-Suite level. In addition, United Utilities were highlighted as one of the top 1% of over 15,000 companies across Europe in the Financial Times' Statista Survey for Diversity and Inclusion Leadership and were included in the Bloomberg Gender Equality Index, making them the top-ranking water company in the UK and 1 of only 5 utility companies across the whole of Europe to make the top 150.
---
View the full Case Study as an Inclusive Companies Member
---