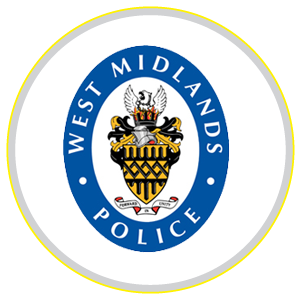 Ranked No.5 – 2021/2022
Once again ranking in the top 10 of the Inclusive Top 50 UK Employers List, West Midlands Police (WMP) have cemented their position at 5th place, in recognition of their continued dedication to workplace diversity.
Covering an area of 348 square miles and serving a population of almost 2.8 million in one of the most diverse areas of the UK, West Midlands Police employ over 12,000 Police Officers and Staff. The West Midlands is an area rich in diversity, with over 30 per cent of its population from Black, Asian and Minority Ethnic backgrounds;  51% are female, 16% of the working age population have a disability and approximately 6% identify as LGBT. Against this backdrop, the force deals with more than 2,000 emergency calls for help every day, as well as patrolling the streets and responding to incidents 24 hours a day, seven days a week.
Chief Constable, Sir David Thompson QPM DL,  said "I have proudly led West Midlands Polices since 2016, with diversity and inclusion at the heart of all we do. We are working hard to ensure that all of our colleagues feel a sense of belonging within the organisation. Our Fairness in Policing Team and Fairness and Belonging plan aim to improve perceptions of legitimacy amongst both our staff and local communities. The ambition is to integrate the principles of procedural justice and organisational justice into everything we do. If the communities of the West Midlands believe that what we are doing is correct and fair, then they are more likely to engage with us. Part of this work is our new and improved Diversity and Inclusion Strategy. No other police force is attempting to improve fairness in this way. As Chief Constable of the West Midlands I take full responsibility for ensuring this work comes to fruition. I am extremely grateful of the progress we have made as an organisation and I am aware of the challenges we face in policing to ensure we bring about a societal change that is wider than just the West Midlands."
WMP's Fairness and Belonging Plan reflects their internal vision of an inclusive culture where everyone has a greater sense of belonging. A dialogue programme has been rolled out across the force, initially focussing on race but, in addition, broadening out to include other protected characteristics as part of the inclusive culture agenda, but also further afield to cover subjects such as women's safety. Their new three-year force strategy 'This Work Matters', will safeguard the amazing work that has gone on within the force, such as supporting mental wellbeing.
Diversity and Inclusion within WMP has been on an immense journey and evidence of their progression has been showcased through a number of initiatives and projects. They began with internal peer reviews between departments to ensure each D&I plan is appropriate, far reaching, fair and achievable. Their Staff networks are given dedicated time to carry out their roles along with access to a budget to ensure they are able to fulfil their goals. They are invited to all decision-making meetings as well as being part of the compulsory consultation groups for equality analysis.
---
View the full Case Study as an Inclusive Companies Member
---