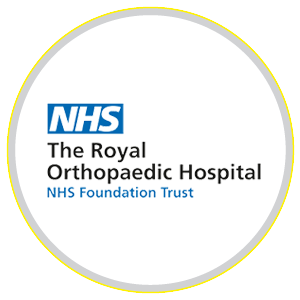 Ranked No.7 – 2022/2023
Listed as the UK's most Inclusive NHS employer, The Royal Orthopaedic Hospital (ROH) have successfully ranked at Number 7 on the Inclusive Top 50 UK Employers List 2022/23, improving their position by 8 places.
A ranking within the Top 10 reflects the exceptional standard to which this organisation operates and their continuous improvement over the years. The Royal Orthopaedic Hospital is one of the largest specialist orthopaedic units in Europe, offering planned orthopaedic surgery to people locally, nationally and internationally. With a 200-year heritage, they're passionate about placing their people at the heart of service delivery so they can continue to deliver exceptional care.
Chief Executive, Joanne Williams said; "We are privileged to be based in Birmingham, one of the UK's most diverse cities, and enjoy the richness that brings in the diversity of our colleagues and patients. I am proud of the Inclusion initiatives we have developed, especially our thriving staff networks. Change, participation and inclusion are championed with our inclusion strategy and action plan, and each network from the Disability Forum to the Menopause Group, has a Board sponsor to enact change at every level. We've been nationally recognised for progress on the public sector Workforce Race Equality Standards and in the national NHS staff survey. Our results for being compassionate and inclusive are higher than the national average; meaning colleagues feel they are valued, recognised, rewarded and engaged."
From the organisations 'First 100 days' induction, hosting focus groups to learn how to support colleagues with cost of living challenges, to their Freedom to Speak Up Guardian and champions, ROH put real action in place. They have a Board level Wellbeing Guardian who acts as a critical friend to supporting the holistic wellbeing of their colleagues, and this includes action on diversity and a sense of belonging. As well as recruiting Trust Board members from diverse backgrounds (currently 29%), ROH have showcased how their Board are actively involved in the D&I agenda and how Exec level sponsors champion and raise the profile of networks throughout the organisation and wider.
View the full Case Study as an Inclusive Companies Member