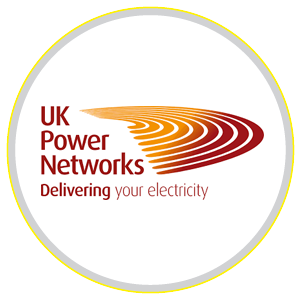 Ranked No.6 – 2022/2023
Once again securing themselves in the top 10 for a third year running, UK Power Networks' comprehensive package of D&I initiatives has secured them a place as the UK's 6th most inclusive employer, 4 places up from 2021, demonstrating continued progress across the organisation.
UK Power Networks is the country's biggest electricity distributor delivering power to 8.4 million homes and businesses across London, the South East and the East of England. They are responsible for keeping the lights on, safely and sustainably, for 19 million people, including those in the most vulnerable circumstances.
The Business Plan for 2023-2028 lists one of their seven key principles as being an Employer of Choice by attracting, developing and retaining a skilled and motivated team that reflects the diverse population that they serve. The company has transformative power to contribute to a more open, diverse and inclusive society by starting from within. Employees with diverse backgrounds bring different perspectives, ideas and experiences, helping them to become more resilient, innovative and effective as they support the transition to a Net Zero Economy.
Basil Scarsella, CEO at UK Power Networks said; "Since UK Power Networks began 12 years ago, we have worked consistently to evolve our business and sector to be more diverse and inclusive. As a business our values, including "Diversity and Inclusiveness" and "Respect", guide us in our strategy, decision making and actions. But there is a still a journey ahead of us. Our corporate vision to be an "Employer of Choice" and a "Respected and Trusted Corporate Citizen" means we're focused on representing the communities we serve in our workforce and attracting and retaining the best talent. In 2022 I was honoured to open the gas and electricity distribution networks' first ever cross-industry event for International Women in Engineering Day 2022, led by UK Power Networks. Whilst we have come a long way, there is no doubt in my mind that diversity of thought, experience and talent is vital to UK Power Networks playing our role in the UK to transition to net zero."
---
View the full Case Study as an Inclusive Companies Member
---