Alan Bell wins lifetime achiever award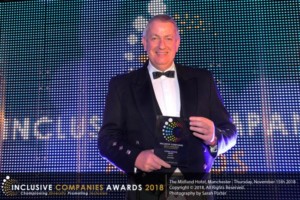 The volunteer manager of Ardrossan based charity, The Scottish Centre for Personal Safety, won the Lifetime Achiever Award at the prestigious Inclusive Companies Awards.
Alan Bell picked up the gong at the Inclusive Companies Awards, the only UK awards ceremony that recognises organisations for harnessing a truly diverse workforce across all protected characteristics.
The Awards cover excellence in all areas of diversity including age, disability, gender, sexual orientation, race and religion, as well as highlighting diverse employers and employees across a wide variety of sectors including housing, public, private, charity and education.
The star-studded awards ceremony was hosted by Good Morning weatherman and Dancing on Ice celebrity Alex Beresford and began with a keynote speech from retired British Airways Captain Catherine Burton, and a passionate display from recognized cover model, Celebrity Big Brother All Star and gay rights activist Austin Armacost.
Awards were given in various categories including Marketing Campaign of the Year, Outstanding Diversity Network and Best Diversity Resource however the ultimate accolade was that of Lifetime Achiever, given to Alan in recognition of a life devoted to equality and diversity.
Alan trained in various martial arts before joining the military and becoming a Close Protection Officer (bodyguard). It was during this time that he noticed the marked difference between fighting in sport, where there are rules, regulations and referees; and fighting in the battlefield or street, where he was taught fast, effective techniques to survive a conflict.
In 1997, Alan set up a social enterprise teaching these effective self defence skills to female rape and domestic violence survivors and since then he registered his organisation as a charity and has developed courses specifically for ethnic minority groups, LGBTI groups, people suffering from dwarfism and people who are blind or visually impaired.
Earlier this year, Alan's charity reached the final of the UK Excellence Awards in the category of Equality and Diversity Excellence against the powerhouse companies of the UK such as BT and Sky; they won the Pioneering Project award in The Scottish Charity Awards 2018 when Alan developed a Personal Safety course specifically for people who are Blind/Visually Impaired; they won the national Diversity in the Third Sector award at The Herald Diversity Awards beating thousands of other charities to win this accolade; and, most recently, won the Team of the Year award at the North Ayrshire Community Sports Awards 2018.
Commenting on his Lifetime Achiever award Alan said; "When I first started teaching and developing Personal Safety courses over two decades ago, I only thought about how it would help victims escape aggressors. Surprisingly though, the courses not only increased participants' self-confidence but also increased their self-esteem and lowered their fear of being attacked which in turn lowered their anxiety levels. The training has actually changed people's lives; helping them to lead richer, fuller lives.
"Over the years, we've trained over 5,000 individuals from a variety of diverse backgrounds and so I was absolutely stunned and humbled to receive this Lifetime Achiever award which I dedicated to all the survivors of Hate Crime whom we have taught over the years."
For more details about Alan and his charity's work, visit their website www.ScotCPS.org.uk
Source – Ardrossan Herald . com