Sean Fletcher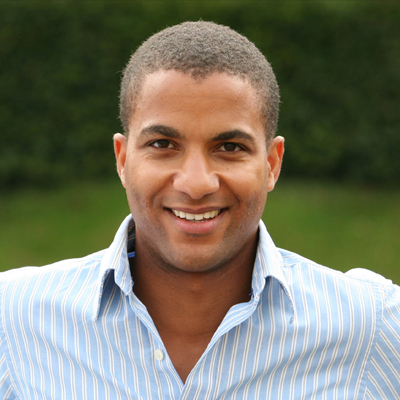 Mixed race (British-Zimbabwean), dual-nationality (British-USA), bi-lingual (English-Welsh), Sean is a journalist who represents modern Britain, combining a nose for a story, with an engaging warmth on camera and with contributors. His multicultural heritage and personable broadcasting style means he reaches out to a wide range of audiences.
This is best illustrated by his versatility, fronting programmes like the BBC's s Countryfile and Panorama, presenting ITV's Good Morning Britain, anchoring the BBC One ethical debate show Sunday Morning Live, and broadcasting from national events such as the First World War Armistice Centenary programme, The Royal Wedding and the Lord Mayor's Show. Future projects include a yet to be announced ITV travel programme to be broadcast in 2020, and a podcast series on fame and celebrity called Almost Anchorman.
He has been the face of a number of documentaries and current affairs broadcasts covering a broad range of topics, such as mental health in Panorama: Kids In Crisis, which was an investigation into our cash strapped child mental health services; the abolition of the slave trade; and the impact of Britain's growing mixed race population.
Career
Sean learnt his journalism on the BBC News Channel, and he was the face of sport on BBC One's Weekend 10 O'Clock News, as well as BBC World News. Journalism is a crucial part of his presenting style, particularly on Sunday Morning Live and BBC London's Inside Out. Sean has also spent time at BBC Breakfast, Sky News and Sky Sports News. He fronted BBC World's coverage of the 2010 FIFA World Cup in South Africa, and regularly reported from the Six Nations Championship, Wimbledon, the Grand National, as well as the London Olympic, the Glasgow Commonwealth Games, the 2015 Rugby World Cup, and The Tour de France. He has been a news reporter and presenter for BBC London News, and recently returned to present their Inside Out series. As a journalist, he has specialised in a variety of issues such as immigration, people trafficking, prostitution, fatherhood, ethnicity, identity, and knife crime.
Charity Work
Sean is an ambassador for the mental health charity YoungMinds. He has run the London Marathon and won Celebrity Mastermind for the charity. He took part in the first series of Bryony Gordon's Mad World Podcast with his son, who suffers from OCD, to raise awareness of the condition. He is also an
ambassador for Bowel Cancer UK, for whom he raised £30,000 by winning ITV's All Star Mr & Mrs with his wife.
Education
Sean went to school in Essex, and following his degree in geography from King's College in London, Sean trained as a music producer before beginning a career in journalism in Cardiff for BBC Radio Wales.
Personal Information
Sean speaks fluent welsh, sings, and plays the violin and piano. He is married and has two children.
@seanfletchertv