Jul
6
Wed
Anti-Racism Training – Facilitated by Zara Rawlinson

@ Online Webinar
Jul 6 @ 11:00 am – 12:00 pm
---
---
Webinar Description:
In order for the workplace to become fully inclusive, organisations must actively support every member of staff to bring the best version of themselves to work to thrive in a working environment. It's important that employers address inappropriate or racist behaviour at every level of the business, to tackle outdated attitudes and help employees understand their privilege and the power of allyship.
This webinar will provide an overview of racism, stereotypes, prejudices, as well as the impact of racism and how employees can proactively challenge racism when it occurs; to not just become non-racist but to actively become anti-racist. Putting anti-racism at the forefront of the charity's values, Zara Rawlinson, founder of Panda Anti-Racism Team will also share her own personal experiences of racism, along with statistics on racial crimes across the UK, to encourage organisations to focus on racial equality to create an inclusive workplace for all.
---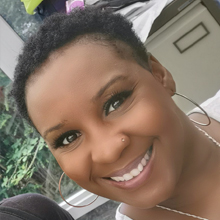 About Facilitator:
Zara moved to Kent from South East London with her husband and 3 mixed race children. Initially she had concerns prior to moving about living somewhere that was not diverse but naively believed that the world had changed. Within her children's first school year her 6-year-old was subject to a racist slur on the playground. This began a long barrage of racist incidents and language aimed at her children and herself. Zara then decided to meet with schools on numerous occasions and she soon learnt that some didn't know how to handle racial incidents or how to communicate with students or parents about race as there was a lack of basic education around racism.
Zara realised that instead of getting emotional, she could do something that would make a real difference. She decided to work directly with schools to provide mental health interventions and set up anti-racism workshops where she could have these conversations on a wider scale.
In 2019, Zara founded Panda Anti-Racism (PART), a charity which aims to educate young people in schools and the wider community on anti-racism through promoting equality, diversity, and current affairs. Since then, Zara and PART have educated hundreds of young people around the impact of racism, stereotypes, and biases to learn how to challenge racism when it occurs so that they don't just become non-racist, but they become actively anti-racist.
---
---