When:
1st June 2022 @ 11:00 am – 12:00 pm
Europe/London Timezone
2022-06-01T11:00:00+01:00
2022-06-01T12:00:00+01:00
---
During this webinar we will explore:
What is psychological safety?

What affects your safety in the workplace?

The 5 Pillars of Psychological Safety

Practical strategies to create an inclusive workplace
Gina's ground-breaking '5 Pillars of Psychological Safety', encompasses 5 key areas that cultivate an environment where people, teams and businesses thrive. Gina will speak about her personal experiences of workplace homophobia and how this was the catalyst for the 5 Pillars being created. 
Through the 5 Pillars of Psychological Safety, Gina will discuss Self, Social, Collaboration, Curiosity and Creativity. These 5 Pillars are principles and teachings that are applicable to workplaces and their people around the globe, whether working in an office or online.
Creating psychological safety by its very nature is intersectional and creating a safe workplace is diversity and inclusion in action.
---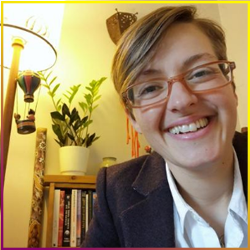 About Gina Battye
Gina Battye is a world-renowned Psychological Safety and LGBT+ Inclusion Consultant and Trainer for Multinational Corporations, Fortune 500s, TV, Film and the Global Press. Creator of the 5 Pillars of Psychological Safety and the Authentic Self Process, Gina has been featured in: Sky News, BBC Radio, Forbes, Psychologies, Cosmopolitan, Pink News, Vice and Diva to name a few.
Gina's 5 Pillars are the foundations and building blocks being used in organisations worldwide, to create fully inclusive workplaces, Gina's uses her own personal experiences and lengthy knowledge of psychological safety to show the impact this can have on the individual in all areas of their lives.
---