When:
10th May 2021 @ 2:30 pm – 4:00 pm
Europe/London Timezone
2021-05-10T14:30:00+01:00
2021-05-10T16:00:00+01:00
---
Black Leaders are proud to deliver our launch online event about our Black Inclusion Index. This was established in 2020 to bring clarity and to provide factual evidence and information on the levels of Black employees at senior levels across a range of business sectors in the UK.
Until now there has been no clear evidence to indicate the levels of inclusion of Black employees at senior levels. In light of calls for improvements in diversity, inclusion and equality across all areas of society there is a need to ensure that Black employees are not left behind. The Black Inclusion Index is a means to measure this inclusiveness
During this event, we will be answering important questions such as:
How would companies benefit by being part of the Black Inclusion Index?

How will the Black Inclusion Index measure success?

How can you get involved?
Please do join us and encourage others to participate too.
---
Itinerary
---
14.30 – 14.35
Sandra Pollock, Open Mind Training & Development Ltd, The Womens Awards, Inspiring You CIC | Event Launch & Introduction
14.35 – 14.50
Davina Duggan | Ana-Maria Maier
'Introduction to the Black Inclusion Index'
14.50 – 15.30
Panel Session | 'Introduction to the Black Inclusion Index'
Hosted by Sandra Pollock | Open Mind Training & Development Ltd, The Womens Awards, Inspiring You CIC
Nathan Dyke I Sales Operations & BAME Network Lead | Auto Trader UK

Ana-Maria Maier, CI Commercial Activation Director, Europe | NielsenIQ

Davina Duggan | Management Consultant & Transformation Expert
15.30 – 15.45 – Audience Q&A
15.45 – 15.50 – Closing Remarks / Event Close
---
Guest Speakers
---
Sandra Pollock OBE
Sandra Pollock OBE is the Founder of Open Mind Training & Development Ltd, The Women's Awards, and Inspiring You CIC. Sandra brings more than thirty years' experience and knowledge spanning a wide range of sectors.
Her award-winning expertise includes Leadership, Management, People development, Organisational Change, Diversity, Equality, Inclusion and Membership growth. Sandrahas worked with a range of business sectors including Banking, Human Resources, Transport, Manufacturing, Engineering, Social Care, NHS, Membership, and the Voluntary sectors.
In addition to Executive Coaching at senior level, her skills incorporate facilitation, training, and development of programmes for Universities, Higher and Further education organisations as well as blue-chip companies.
Sandra's business acumen has earned her numerous awards in recognition of her professional, community and business development contribution nationally.
Sandra is an international speaker, author, and equality activist.
Recently listed in the Queen's New Year's Honours List 2021, Sandra was awarded the Order of the British Empire (OBE) for services to Equality.
---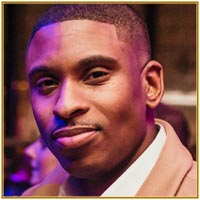 Nathan Dyke
Nathan is Head of Retailer Insight and BAME (Building A Multicultural Environment) Network Lead at Auto Trader.
As a passionate advocate for diversity and inclusion, Nathan has co-chaired Auto Trader's BAME (Building A Multicultural Environment) Network since its inception in 2018. Since that time, the group has established itself as a vital part of the AT community, significantly influencing the strategic direction of Auto Trader's D & I strategy. Deeply involved in recruitment, retention and future talent initiatives, Nathan continues to be a visible and contributing figure in building a truly multi-cultural environment at Auto Trader.
Nathan also sits on Auto Trader's Board Engagement Guild; sharing insight and perspective from AT's BAME network and Sales Operation with Auto Trader's Board to further enhance strategic decision making.
---
Ana Maria Maier
BA in Sociology at University of Bucharest, finalising MBA at UNESCO Chair of Interculturality, Good Governance and Sustainable Development (University of Bucharest)
9 years at NielsenIQ in local, regional and global roles using our best in class market research techniques to understand consumer and shopper behaviour.
Overall 14 years in market research.
8 years of involvement with Diversity and Inclusion in NielsenIQ across geographies and affinities, leading local chapters and launching new employee resource groups, currently co-leading the Culture committee in the UK Inclusion Impact Team.
---
Davina Duggan
A management consultant transitioning to executive leadership and Board service, Davina has forged a reputation for delivering complex mandates and improving the interests of our communities at large. Drawing on a diverse international career in private, public and third sectors over 21 years, Davina creates value within security and intelligence initiatives by providing clarity on what is required to successfully manage and deliver projects, programmes and portfolios. Davina had an initial career spanning ten years in journalism and television news gathering, including tenures with the Metropolitan Police, the BBC and ITN. She has held high-profile roles at the centre of the UK national security machinery, managing crises during the 2017 terror attacks and the WannaCry cyber attack; and she has demonstrated a track record of bringing local, central and foreign government departments, the UK intelligence community and external experts together to achieve shared objectives. Davina is a qualified intelligence analyst; an accredited P3M professional; and a Member of the Association for Project Management (MAPM).
Davina is most passionate about inclusion: and specifically contributing to the urgent need to increase representation across senior leadership (including in security and intelligence) of people from Black backgrounds. She is establishing 'Black and C-Suite,' an inclusion social enterprise that supports candidates to achieve an optimum profile for Boardroom service and leadership legacies within their communities.
---