When:
22nd February 2023 @ 11:00 am – 12:00 pm
Europe/London Timezone
2023-02-22T11:00:00+00:00
2023-02-22T12:00:00+00:00
---
As the importance of equity, inclusion and belonging continues to climb the corporate agenda as a key business issue recognising the contributions people make to developing and progressing good practice, engaging understanding and stimulating action is essential to keep up momentum.
Through a dynamic conversation this session will look to debunk some of the myths we hear often in the EDI space, and bring to life the importance of people's identities. Our speakers will discuss removing barriers to improve social economic diversity representation at all levels and explore how to create a culture of belonging. During this session, practical examples with be provided and key takeaways for you to take back to your own organisation to implement change.
---
About the facilitators
---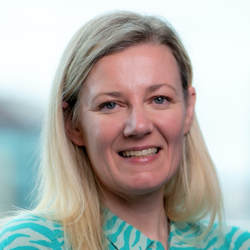 Joanne Conway
Head of Diversity, Equity & Inclusiveness, EY UK
Joanne is proud to be listed on the Northern Power Womens Future top 50 list, and is the Head of Diversity, Equity & Inclusiveness at EY UK.  Joanne previously led the Global DE&I strategy for EY and is an accredited facilitator in Inclusive Leadership. She completed a Masters in HR Management with a dissertation in Psychological Safety in minority groups. With a background in Finance and Psychology she builds trusting relationships and focuses on outcome driven results to build sustainable culture change.  Guest lecturer at Salford University, school governor and a doctoral student at  Cranfield University.  Joanne's doctoral research is on the topic of privilege.  In particular about the role of social identity and inclusion at work in conceptualisations of privilege with a focus on Race, Gender and Class.
---
Amanda Chuku
UK DE&I Solutions & Enablement, EY UK
Amanda is a Diversity, Equity, and Inclusiveness Specialist working within the DE&I team at EY UK. Amanda supports on areas such as Neurodiversity, LGBT+ and Social Mobility. She has a strong Global Marketing background, and has extensive experience working in diverse cross-functional teams. With her strong project management skills and DE&I knowledge she has supported successful internal and external projects and events, including Flush Fest, the world's only menopause festival.  Amanda has a degree in Business and Finance, and wrote her dissertation on gender diversity on corporate boards with a focus on intersectionality.