---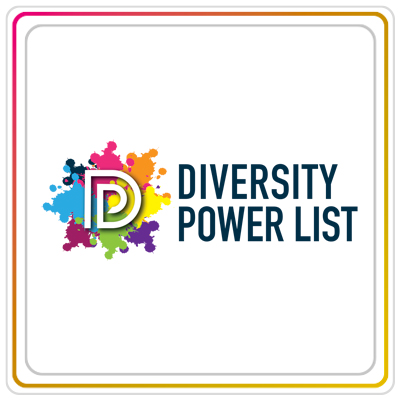 Inclusive Companies are thrilled to cordially invite you to this exclusive invitation-only event in partnership with Anglo American to honour the Diversity Power list 2022/23.
Champions of diversity and inclusion were named in the first-ever Diversity Power List in December 2022- a definitive, honours-style list of the most innovative and inspirational people in the UK. Compiled by a panel of judges including founder Paul Sesay, CEO of Inclusive Companies, the list recognised 50 people who are making a tremendous difference to the lives of others.
From athletes to actors, business leaders to entrepreneurs, famous faces to unsung community heroes, the list includes people from all walks of life showing outstanding bravery and dedication to promoting diversity and inclusion both within their communities and the wider world.
This powerful event will provide fantastic networking opportunities to those featured on the Diversity Power List 2022, as well as nominees for the upcoming 2023 list. Networking creates lasting change, encourages communication, beneficial exchanges, and knowledge sharing, and we look forward to uniting with business diversity champions from all walks of life.
Serving a winter wonderland afternoon tea and mulled wine afterwards, this commemorative afternoon tea will feature a powerhouse panel session and an array of inspirational speakers in a spectacular celebration of inclusion.
---
Itinerary
15.00 – 15.30
Registration
15.30 – 15.35
Monique Carter | People & Organisation Director at Anglo American | Welcome & Introductions
15.35 – 15.45
Paul Sesay | CEO & Founder, Inclusive Companies
15.45 – 16.45
Winter wonderland Afternoon Tea
---
16.45 – 17.30
Diversity POWER Panel
Chaired by Paul Sesay
Change Agent, Entrepreneur, EDI Leader, and Founder of Inclusive Companies, The National Diversity Awards, The Inclusive Awards, Inclusive Top 50 UK Employers & Diversity Power List
Professor Amanda Kirby
Qualified GP, CEO of Do-IT Solutions, Researcher, Renowned Author, Chair of ADHD Foundation and Professor at the University of South Wales and Cardiff University
Laks Mann FRSA
National Talent Development Strategy at the College of Policing, London Mayor EDI Advisor, Board Trustee at South Asian Heritage Month and caba, Leadership Fellow at Windsor Castle and Founder of 'Gaysians'
Lydia Amoah FRSA
Founder of Cultural Change Agency BACKLIGHT Inc, Creator of the Black Pound Report, Head of Black at Cannes UK and Patron of Show Racism the Red Card and UN associated TOGETHERBRAND
---
17.30 – 18.30
Guided Networking followed by canapés and mulled wine
18.30
Event Close