When:
13th July 2022 @ 11:00 am – 12:00 pm
Europe/London Timezone
2022-07-13T11:00:00+01:00
2022-07-13T12:00:00+01:00
---
Inclusion for All is one of the pillars of Vodafone's purpose, their strategy seeks to ensure no one is left behind. Vodafone has a number of key policies and initiatives in place to support parents in the workplace, recognising the importance to attract and retain talent, but also ensure that employees are at the heart of everything they do.
In 2015, Vodafone launched a market-leading Global Maternity Policy and, in 2020 launched their ground-breaking Parental Leave Policy, which offers 16 weeks of fully paid leave. These policies, along with ReConnect – our Return-to-Work programme – are supported with the ability to return to work flexibly, with employees working 80% of their hours for the first 6 months, with 100% pay.
Most recently, they launched support on premature birth, pregnancy loss and for carers. In order to embed these policies, culture and communication are intrinsic to the company's success.
During this webinar, DEI, Culture and Talent Leader Lucy Unwin will discuss Vodafone's journey to support parents in the workplace, to help other organisations across the UK revaluate their parental leave policies to best support employees on their journey.
---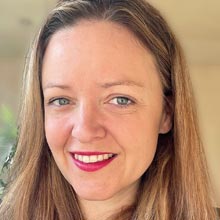 About Lucy
Lucy Unwin is a DEI, Culture and Talent Leader at Vodafone who is passionate about creating a work culture where people belong, can thrive, and grow. Over the years Lucy has combined her skills of driving transformation with her ambition to deliver positive changes to develop and engage diverse talent. This has included creating the global employee experience approach at Vodafone, shaping the new organisation cultural framework, leading on new initiatives such as digital reciprocal mentoring and new policies such as Vodafone's global parental leave policy.
---