When:
11th August 2022 @ 11:00 am – 12:00 pm
Europe/London Timezone
2022-08-11T11:00:00+01:00
2022-08-11T12:00:00+01:00
---
LGBT Pride Month is celebrated annually to honour the 1969 Stonewall riots; the riots were important protests that took place in America and changed gay rights for many people around the world. Pride is also a month which celebrates people coming together in love and friendship, to honour the achievements the LGBT community and show how far LGBT rights have come, while highlighting certain areas which need to be more inclusive for the community.
But how do we embed LGBT inclusion post pride month?
Chief Executive of the LGBT Foundation Paul Martin will take part in a personal and engaging fireside chat to share his opinions, knowledge and ideas whilst simultaneously exploring how organisations can celebrate the LGBT community post pride celebrations, ensuring every member of the community is supported, respected, and able to thrive in the workplace. Workplace LGBT discrimination is a prevalent issue in organisations across the UK, to combat this, employers must embed LGBT inclusion all year round to create an inclusive working environment for every member of staff.
---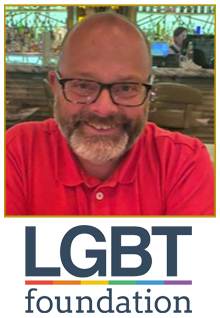 About the Facilitator
Dr Paul Martin OBE is Chief Executive of LGBT Foundation – a national charity delivering advice, support, and information services to lesbian, gay, bisexual and trans communities. With a history dating back to 1975, they campaign for a fair and equal society where all LGBT people can achieve their full potential. Each year, LGBT Foundation supports over 40,000 people, achieving an average 98% satisfaction rating, as well as providing information to over 600,000 individuals online.
Paul has been actively involved in the LGBT Community for over 30 years. As a member of the Greater Manchester Mayor's LGBT Advisory Group, Paul is one of a panel of specialists working to tackle inequalities faced by lesbian, gay, bi and trans people. Paul is also Chair of The National LGB&T Partnership which is a network of English LGB&T service delivery organisations. Paul is a member of the National LGBT Ministerial Advisory Panel – ensuring the Government meets its commitment to improving lives as set out in the landmark LGBT Action Plan.
Paul was awarded an OBE in 2011 for all of his work in supporting and campaigning for the LGBT+ community and is now happily married to his husband Pete and lives in Chorlton, Manchester.
---