---
This event is for Inclusive Companies Members only!
For further information please contact info@inclusivecompanies.co.uk 
---
To build a truly inclusive environment where every colleague can thrive, leaders must act as role models and whole heartedly commit to building trust, psychological safety and inclusion within their own teams and wider.
This session will look at how inclusive leadership can be positioned as the cornerstone of a D&I Strategy and how leaders can be supported and motivated to become confident inclusive leaders through interventions of interactive and thought-provoking training, policies, and awareness.
---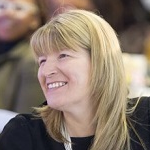 About Liz Douglas
Liz is currently Group Head of HR – Corporate Functions and Inclusion, Diversity and Wellbeing having held senior HR and communications roles in a broad range of sectors.  She began her Head of I&D role for Anglo American in 2018 – the first person to take on this global role for the business.
The challenge was not insignificant in a sector which is traditionally male dominated and within a business that had identified challenges around levels of inclusion.
Over the last few years, Liz has developed an I&D vision and strategy for the Group based on understood need and taken senior leaders on a sometimes controversial journey to a place where they are fully and visibly committed to inclusion and a psychologically safe workplace for everyone tackling issues such as bullying, harassment and victimization and domestic violence.
A priority for Liz has been the development of inclusive leadership training and awareness, to ensure that the diversity and unique contribution of every colleague is prized at every level within an organisation, in order to ultimately drive high levels of performance.
---
This event is for Inclusive Companies Members only!
For further information please contact info@inclusivecompanies.co.uk 
---