When:
12th September 2023 @ 12:00 pm – 1:00 pm
Europe/London Timezone
2023-09-12T12:00:00+01:00
2023-09-12T13:00:00+01:00
---
---
In the light of the current volatility we've been witnessing across the world and the workplace we need to seriously consider; are we equipping our teams to be able to resiliently ride these uncertain times?
It's been an incredible few years of rapid and unprecedented change – Brexit, covid, the cost of living crisis, looming recession, war and within that context our workplaces are micro-environments that are also impacted by many of these challenges.
In this 1 hour online session, we'll look at how this backdrop of ongoing uncertainty is affecting the resilience and productivity of our people. Plus, we'll propose practical approaches, strategies and tips on how to better support your leaders and teams in your workplace.
---
In this session, you'll:
– Deepen your understanding of how change and uncertainty impact teams
– Explore resilience and productivity considerations when dealing with change
– Gain practical tips on how to successfully lead your teams through change
To get deep insight and have an informed discussion with like-minded senior leaders in Leadership, HR and Diversity, Equity and Inclusion please join us for this online session hosted by Suzy McCafferty, Utopia Mental Health and Wellbeing Lead and introduced by Andy De Groose, Utopia Partner.
---
---
About the facilitators
---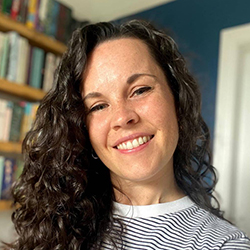 Suzy McCafferty
Utopia Mental Health and Wellbeing Lead
Suzy has been working within social equality for around ten years but, after a life-changing event in 2017, her perspective shifted towards helping people live more authentic and joyous lives. Suzy set up Radical Joy, an online community which advocates for authenticity and the importance of mental health role models. She also studies Positive Psychology and is looking forward to implementing her learning from her new ventures at Utopia. Suzy leads our Mental Health and Wellbeing practice.
---
Andy De Groose
Utopia Partner
Andy joins Utopia as Partner, responsible for Finance and Operations. Andy has a strong track record building digital businesses, leading creative agencies and designing bespoke tech solutions for clients. He's also a mentor and NED for several creative start-ups and Co-Founder of Brilliant Misfits, an organisation wanting to support people making a difference in the world. Not afraid to tread the path less travelled, Andy's also been a stay-at-home-dad, co-built a pub and founded Dulwich Gin, a boutique gin brand!
---
---