When:
28th June 2022 @ 11:00 am – 12:00 pm
Europe/London Timezone
2022-06-28T11:00:00+01:00
2022-06-28T12:00:00+01:00
---
Inclusive Companies are thrilled to be partnering with internationally acclaimed, Warrington Disability Partnership, to deliver a webinar to raise awareness of long COVID and provide practical information around its effects on employees.
An estimated 1.3 million people in the UK (2.0% of the population) are experiencing long COVID (symptoms persisting for more than four weeks after the first suspected coronavirus (COVID-19) infection that were not explained by something else). Of these, over half a million, first had (or suspected they had) COVID-19 at least one year previously.
Fatigue continues to be the most common symptom reported as part of individuals' experience of long COVID (51%), followed by loss of smell (37%), shortness of breath (36%), and difficulty concentrating (28%). The prevalence is greatest in people aged 35 to 69 years, females, people living in more deprived areas, those working in health care, social care, or teaching and education, and those with another activity-limiting health condition or disability.
The majority of people who attend professionally organised long COVID support groups and services state that their employers haven't made reasonable adjustments to enable them to return to work, and in some cases, their families and friends have been unsympathetic as to the level of impairments they are enduring.
Join WDP Co-founder and Chief Executive, Dave Thompson MBE DL MBA to explore…
• The challenges of people living with long COVID.
• The effects of long COVID.
• Practical information about making reasonable adjustments.
• Ideas on what you could do to support colleagues who have long COVID.
---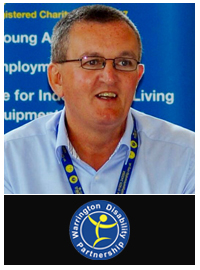 About Dave Thompson MBE DL MBA
Dave is the founder and Chief Executive of Warrington Disability Partnership, a user led organisation, employing over 50 staff and nearly 200 volunteers. Together they provide a wide range of independent living services including two Independent Living Centres, Direct Payments and Payroll Services, Shopmobility, Inclusive Sports, and a number of Employment and Educational contracts.
Until April 2015 Dave worked as a senior manager in the NHS. He started out his 20 year career as the UK's first full-time Disability Advisor. Completing his NHS career as the Assistant Director of Inclusion where he led on equality & diversity, patient & public involvement and social inclusion. Dave has been involved in a number of high profile initiatives working with NHS Employers and NHS England, including policies and procedures still used across health and social care services.    
---