When:
26th October 2023 @ 12:00 pm – 1:00 pm
Europe/London Timezone
2023-10-26T12:00:00+01:00
2023-10-26T13:00:00+01:00
---
---
With Islamophobia Awareness Month approaching in November, Inclusive Companies are excited to be partnering with Dr Zaheer Ahmed MBE for an information-packed session on Respect & Tolerance – How to tackle Islamophobia in the workplace, to equip attendees with ways in which we can face and overcome these issues within our own organisations.
Islamophobia is a colossal issue that society faces today, and inevitably works its way into organisations across the UK in a multitude of ways, combining with other strands of diversity and placing Muslim individuals in a challenging position.
This webinar will discuss the prevalence and destructive nature of Islamophobia, and go on to discuss what you can do in your organisations to break down barriers to inclusion and belonging, and equip you with best practise going forward. Throughout the webinar you will hear why not only discussions around Islamophobia are so crucial to development of diversity and inclusion, but openness to interfaith dialogue.
---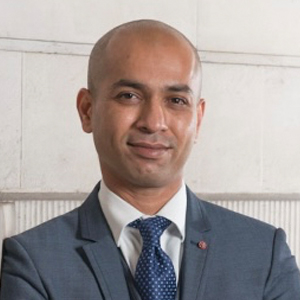 About the facilitator
Zaheer Ahmad is a prominent voice on Diversity, Equity, and Inclusion (DEI) and most recently served as the Global Head of Diversity, Equity, and Inclusion at Haleon, a world-leading health company. He has held senior DEI roles at Ernst and Young and in the UK Police Service.
As a multi-award-winning thought leader in DEI, Zaheer is a highly sought-after advisor to leading public and private sector organisations seeking advice on social mobility, intersectionality culture, belonging and diversity, and inclusion.
A highly decorated former police officer, Zaheer served in multiple departments and was a member of five National Police boards such as the Ministerial Progression Board and the National Equality Diversity and Human Rights Board. Moreover, Zaheer holds several advisory and non-executive positions with leading organizations, including the Chartered Management Institute, the British Academy of Management, the National Health Service, Megaport, and the Industry Skills Board. He recently served as an advisor to an independent task force (supported by the UK Government) set up to boost socio-economic diversity in financial and professional services.
Zaheer is also a Leadership Fellow at the Society of Leadership Fellows, where he has close contact with some of the world's most influential leaders. He is a former Race advisor to the Arsenal football club.  In 2022, he became an Independent Panel Member with the Premier League Equality, Diversity, and Inclusion Standards, which supports all 20 Premier League clubs and multiple English Football Leagues to embed EDI across their organisations. In his illustrious career, Zaheer has contributed to various high-profile reports and projects, such as the Government backed Parker Review and the FTSE 500 McKenzie-Delis Pecker Review, among others.
He is the founder of EqualityX which publishes an annual list of Influential Muslims in the workplace and the Top 50 Inclusive Muslim Employers. Recognised for his distinguished knowledge and impact in DEI, Zaheer has received over 30 awards and honours, including the Head of Diversity, European Diversity, Global Equality, and Ethnicity in the City Inspirational Leader Awards, Zaheer was named on the Global Diversity Top 20 D&I professionals list for two years running.
Currently, he sits on the Judging Panel of the European Diversity, British Diversity, Compliance Industry, Tech Diversity, and Black Talent Awards. He was also voted the most Inspirational and influential DEI leader by his industry peers. Zaheer continues to empower people across the globe with his deeply insightful speaking sessions, where he eloquently discusses social mobility, cultural change, intersectionality, and diversity and inclusion.
---
---