When:
19th January 2022 @ 11:00 am – 12:00 pm
Europe/London Timezone
2022-01-19T11:00:00+00:00
2022-01-19T12:00:00+00:00
---
In honour of World Religion Day, Inclusive Companies are thrilled to continue the conversation by partnering with Jag Jethwa, Network Lead at OVO Believe, to deliver this insightful webinar focussing on supporting faiths in the workplace.
World Religion Day (Celebrated on 16th January 2022) aims to promote understanding and peace between all religions, encouraging people to learn about other faiths and their followers. As we know, people belong to a wealth of religions and hold various beliefs in the UK, and workplaces have a duty to recognise and support this, creating an inclusive workplace for all.
Believe Network is one of 8 Networks set up at OVO and was established to embrace and promote all Faith's and Beliefs. During this session, Jag will explore how organisations can do more to encourage openness about Faith & Belief and will share how making small changes within your organisation would make staff feel comfortable in the workplace. A practical example of this is allowing members of different faiths to celebrate religious events by swapping bank holidays, something many businesses should consider.
Join the conversation to learn more and share best practice as we aim to support Faiths in the workplace.
---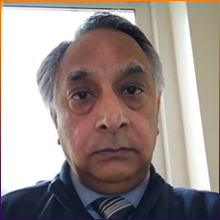 About Jag Jethwa:
I was born in Kenya and at the age of 5, I moved to the UK with my family. We lived in London for the first year and then moved to Birmingham.
My parents encouraged us to follow hinduism at home, however made it clear that outside of the home we follow local faiths and traditions.
We lived on a council estate which included all religious faith groups, the estate community all spoke about each other's faiths and also celebrated together. This included Christians, Hindus, Muslims, Jews, Budhists and atheists. I got to learn a lot from everyone.
I moved to Portsmouth for work, this was a totally different experience from my early life. People did not talk about faiths, they did not have an understanding of other religions and beliefs.
I started talking, to the people living around me and at work, about Hinduism and my faith. I would celebrate Diwali and Christmas with my neighbours and members of my team. This allowed people to become open to ask questions about faiths.
---