---
This webinar will highlight how Touchstone as an employer maximises the potential of staff and volunteers with lived experience of mental health and neurodiversity to be their authentic selves and thrive. Touchstone look at people's assets and abilities and not deficits or a disability. This is not just an ethical or moral position but more significantly a powerful business rationale giving Touchstone a competitive edge. Strong leadership, allyship and being an adaptive and flexible employer are the key ingredients that enables Touchstone staff and volunteers to thrive and reach their full potential.
---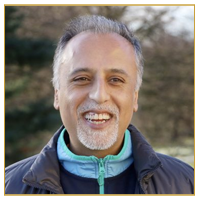 About the facilitators
Arfan Hanif
Arfan is an experienced senior leader with 3 decades of leadership experience working in different parts of the country and covering a wide range of multi-disciplinary areas in both the public and charity sectors. Arfan is currently CEO of Touchstone which delivers several mental health and wellbeing services across the diverse communities of South and West Yorkshire. Arfan first made contact with Touchstone as a service user about a decade ago after travelling through the institutional mental health pathways of the Health system.  Arfan believes that all lived experience including adversities are powerful assets in an accepting, inclusive and compassionate environment.  Arfan is a leader guided by lived experience and inclusiveness – putting the needs of people first.'
---
Sophie Hailwood
Sophie joined Touchstone in 2017 when she moved to West Yorkshire after ten years working in London based third sector organisations. Sophie is the current Director of Operations for Inclusion, with strategic oversight for Neurodiversity, Criminal Justice and Asset Based Community Development.As a proud LGBTQ+ and neurodiverse leader, she uses her professional and personal expertise to lead Touchstone's Inclusion agenda, chairing the staff Neurodiversity Peer Support Group and org-wide Diversity and Inclusion Forum.
---