When:
19th July 2022 @ 11:45 am – 3:00 pm
2022-07-19T11:45:00+01:00
2022-07-19T15:00:00+01:00
Where:
Auto Trader UK | London

---
This event is exclusive to Inclusive Companies Members Only!
For further information about attending please contact info@inclusivecompanies.co.uk 
---
Inclusive Companies are proud to present our latest event 'The Power of Collaboration' in partnership with Auto Trader UK.
---
About this event
Welcome to Inclusive Companies' official summer gala! This informal, fun event will serve as the perfect means to re-connect our members after much time creating virtual connections.
We've all become adept at joining video meetings, attending virtual events and too often felt the dreaded "Zoom Fatigue" that comes with endless digital interactions. Hosted by long term ally Auto Trader UK in their London office, we are thrilled to offer our network members the opportunity to finally meet in person, engage, and focus on the power of collaboration.
Networking is such a powerful tool that can…
– Contribute to your social well-being
– Lead to the exchange of ideas and best practice
– Help you meet people at all professional levels
– Boost your self-confidence
– Create opportunities
– Develop long-lasting relationships
Featuring an inspirational guest speaker, speed networking and of course lots of time to get to know each other over drinks and nibbles, this relaxed session will provide a great opportunity for our members to get together, and unite with other Network Chairs, Business Leaders, D&I Champions, and HR Professionals.
Should weather permit, we will be hosting lunch on Auto Trader's rooftop terrace! So make sure to reserve yourself a place as we explore 'The Power of Collaboration'.
We are thrilled to offer you two complimentary tickets to attend this event – we encourage you to join us!
*Please note this event is on a 'first come first served' basis – A detailed itinerary will be sent prior to the event*
Should you have any queries, please do not hesitate to get in touch and we'd be more than happy to assist.
Kind Regards,
Paul Sesay & The Team at Auto Trader
---
ITINERARY
---
11.45 – 12.15   
Registration, Networking, Badge Activity
---
12.15 – 12.20   
Paul Sesay, CEO & Founder – Inclusive Companies | Event Launch & Introduction
---
12.20 – 12.25   
Christos Tsaprounis FCIPD, Head of People & Culture – Auto Trader | Introduction
---
12.25 – 12.35   
Vanessa Vallely OBE CCMI, CEO & Founder – WeAreTheCity | The Power of Collaboration
---
12.35 – 13.15   
Collaborative Speed Networking with Vanessa Vallely
Vanessa Vallely will share networking tips and experiences that have enabled her to become one of the most well-networked women in the UK. Participants will learn about the benefits of networking and learn how to network both internally and externally.
This segment will include speed networking rotations where delegates can share what skills they can offer, and what they need to move themselves forward. This will be followed up with a 10-minute summary, including 'aha' moments in the room and top tips on how to follow up and keep relationships warm.
---
13.15 – 15.00   
Lunch, Networking & Drinks *weather permitting, Auto Trader will kindly be serving lunch on their roof top terrace*
---
15.00               
Event Close
---
GUEST SPEAKERS
---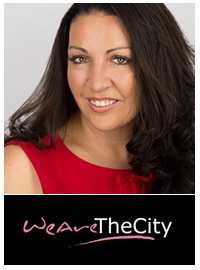 Vanessa Vallely OBE CCMI, CEO & Founder – WeAreTheCity 
Vanessa is one of the UK's most well-networked women and has provided keynotes on a variety of career related topics for over 500 companies worldwide. Vanessa is also one of the UK's most prominent figures in gender equality and often provides guidance and consultancy to both government and corporate organisations who are seeking to attract, develop and retain their female talent. Vanessa was awarded her OBE in June 2018 for her services to women and the economy.
At the height of her successful 25 year career in the financial services, Vanessa launched the award winning WeAreTheCity.com in 2008 as a vehicle to help women progress in their careers. WeAreTheCity.com now has over 120,000 members and provides resources/conferences/awards/jobs to women across the UK. Vanessa is the also the -founder of UK wide diversity forum Gender Networks. Gender Networks (formerly The Network of Networks) brings together diversity leaders from 85 cross sector firms to share best practice on a quarterly basis.
Vanessa is also the author of the book "Heels of Steel: Surviving and Thriving in the Corporate World" which tracks her career and shares 13 chapters of tips to succeed in the workplace.
Over the past twelve years, she has accumulated over 20 industry awards, including Women in Banking & Finance's Champion for Women, Financial News Top 100 Rising Star, The International Alliance for Women Top 100 Women globally & Brummells Top 30 London Entrepreneurs. In 2015 Vanessa was in GQ UK's Top 100 Connected Women and the Evening Standard's 1000 Most Influential Londoners. Vanessa is a regular guest on TV and radio and also sits on the Government Digital Services advisory board.
Vanessa is also the Pearly Queen of The City of London, a tradition that has been in her family for over 100 years. She is an avid charity worker and sits on the board for Cancer Research UK as one of its Women of Influence. Vanessa also sits on the Centenary Action Group founded by Dr Helen Pankhurst CBE.
Keynotes and workshops include The Power of Profile, The Power of Mentoring, Speed Networking, Speed Mentoring, plus her Planning and Goals career workshop. Vanessa is also available as a panelist, facilitator and leadership development programme host. All talks can be tailored towards specific audiences.
---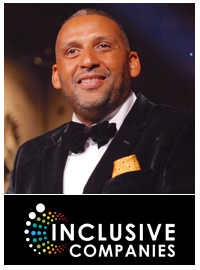 Paul Sesay, CEO & Founder – Inclusive Companies
Paul Sesay is the Founder and Chief Executive Officer of Inclusive Companies, Inclusive Top 50 UK Employers, National Diversity Awards and the Inclusive Awards. Paul's business acumen has mainly been with a social focus.
With over sixteen years worth of experience within the Diversity, Equality and Inclusion sector, Paul has worked with some of the largest organisations in the world on their diversity and inclusion profiles.
He has also worked within local communities to help people from various backgrounds to achieve and empower disadvantaged groups throughout the UK. Paul's initiatives have helped thousands of organisations and individuals get recognised for their hard work and dedication to diversity.
---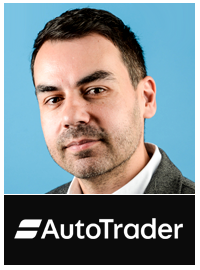 Christos Tsaprounis FCIPD, Head of People & Culture – Auto Trader
Christos is a people geek and a diversity & inclusion advocate with a career across different industries ranging from digital to social housing. He spent four years at the Co-operative Bank before joining Auto Trader in 2014 where together with his brilliant team he focuses on creating a space where everyone's uniqueness is celebrated and is empowered to thrive by being their authentic, true and best self. Driven by his passion for equal opportunities for all people, he leads the D&I and CSR strategies of one of the most admired digital businesses in the UK and 2018 Top 50 Inclusive Companies.
Born in Athens and moved to the UK in 2002 to complete his MSc in Human Resources at The University of Manchester after completing studies at the American College of Greece and the London School of Economics; he fell in love with the city and its people so he decided to make it his home. He is a actively involved in making a difference working with leading charities including Survivors Manchester, Leonard Cheshire Disability, Manchester Pride and Forever Manchester. Recognised for his contribution to his industry he is a Fellow of the Chartered Institute of Personnel & Development and the recipient of the Lifetime Achievement Impact Award by the Recruiter Magazine in 2018."
---
This event is exclusive to Inclusive Companies Members Only!
For further information about attending please contact info@inclusivecompanies.co.uk 
---