When:
12th January 2022 @ 11:30 am – 12:30 pm
Europe/London Timezone
2022-01-12T11:30:00+00:00
2022-01-12T12:30:00+00:00
---
This engaging webinar will address the gap between diversity training and day to day business and naturally features/raises awareness of the Chinese/East Asian perspectives given Lin's own experience.
What if you could bring yourself into an organisation,, even the parts of yourself that don't seem to belong on surface level?
Lin, a Senior Executive from Goldman Sachs Asset Management, draws on her personal experiences and latest research on diversity science and leadership, articulates why she believes 'diversity is having a seat at the table, inclusion is having a voice, and belonging is having that voice heard'.
Through her work, Lin discovered one of the biggest questions professionals ask on the topic – after the diversity training, is how can individuals make changes on a day-to-day basis? Lin believes diversity is not just a topic to be studied, but a reality to be lived. It's not about being politically correct, but about performance and innovation.
This revealing webinar will explore in detail, specifically how individuals and organisations can be empowered to drive changes. During this thought provoking and interactive session, you will learn:  
The framework of building and leading diverse teams

Surprising facts about unconscious bias and why we can't stop there

What's the most important factor to predict team success, and a healthy emotional environment at work

How to decode communication styles and beliefs in difficult situations, and cultivate a more inclusive leadership and a work environment

Authenticity – how to be successful at work without having to change who you are
---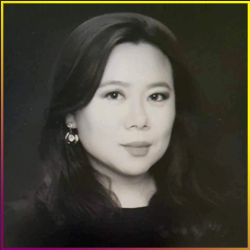 About Lin Yue
Lin is a Senior Executive at Goldman Sachs Asset Management, responsible for managing key relationships across UK institutional investors. As a senior leader of mainland Chinese origin in London, she helps elevate women and ethnic minorities in the workplace. She is a multi-award winning thought leader, keynote speaker, an original thinker in delivering the intersection of diversity, culture, psychology and business.
Lin was recognised in the HERoes 100 Women Future Leaders List in 2021 and 2020, a finalist for Asian Women of Achievement in 2021, as a top 5 Future Leaders for HERoes Women Role Model, on Brummell's list as one of 50 Most Inspirational Women in the City of London, one of the 50 Ethnic Minority Future Leaders by EMpower, and the winner of the "Excellence in Banking" award at the Chinese Business Leaders Awards.
A graduate of Experimental Psychology from Oxford University, Lin is also passionate about applying psychology and neuroscience in the workplace and making life skills accessible to all.
---