When:
16th June 2022 @ 11:00 am – 12:00 pm
2022-06-16T11:00:00+01:00
2022-06-16T12:00:00+01:00
---
The British social class system has been around for centuries and is a way to easily divide members of society into levels of hierarchy, however, the class system is notorious for limiting progression in different areas of people's lives.
Striking figures show that ethnic minority employees are likely to experience negative social mobility, compared to their white colleagues; with more young ethnic minority individuals facing higher levels of unemployment. Throughout the worldwide COVID-19 pandemic, many UK residents were socio-economically impacted, with more people now facing daily financial struggles.
During this webinar, we will delve into what the British social class system is, how people are ranked into levels of hierarchy, and discuss how the class system has hindered people's career progression, primarily focusing on marginalized communities.
---
---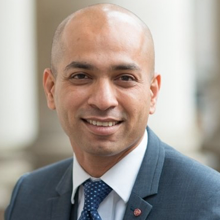 About Zaheer
Zaheer is a multi-award-winning Diversity and Inclusion thought leader. Currently, he is the Global Head of Inclusion and Diversity for Consumer Healthcare at GSK. Before this, he was Head of Strategic Delivery for the central D&I dept at EY. He was responsible for leading the Race, Innovation, and Thought leadership strategies for the firm and chaired the firmwide Race Working Group.
Zaheer is a highly decorated former police officer, he served in various departments including Uniform Policing, Force Intelligence Bureau, and Murder Investigation. He also worked closely with the Ministry of Justice as a Member of the Race Advisory Board. He is a former Race advisor to the Arsenal football club.
He is a former member of five National Police boards including the Ministerial Progression Board and National Equality Diversity and Human Rights Board. He has contributed towards several high-profile reports including "The Parker" report, a UK Government-backed review of ethnic diversity representation in FTSE 250 boards.    
He is the recipient of numerous national and international awards. He was appointed Member of the Most Excellent Order of British Empire (MBE) by Her Majesty the Queen in 2010 in recognition of his services to the police service. He is a winner of the Global Equality and Diversity Award, European Diversity "Hero of the Year" Award, and was named top 20 industry professionals in the Global Diversity List. The University of Bradford awarded him Honorary Doctorate for his efforts to advance Diversity and Inclusion both Nationally and Internationally.
He is a serving Justice of the Peace (Magistrate) sitting in adult criminal court and a School Governor and an advisor to an independent task force (supported by the UK Government), which is set up to boost socio-economic diversity in financial and professional services. A fellow of the Institute of Leadership and Management and Society of Fellows at St Georges House (Windsor Castle), and a Chartered Companion of Chartered Management Institute he is a member of its Advisory Committee for Race Equity. Zaheer is also a Strategic Advisor to the British Academy of Management and a member of the City and Guilds Industry Skills Board, and a member of Premier League's Equality, Diversity, and Inclusion Standards panel. 
---
---