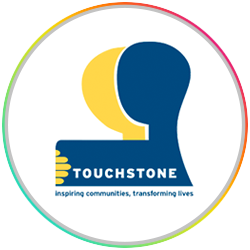 Touchstone
Touchstone's passion is to secure the rights and entitlements of the diverse people and communities they work with and for. Touchstone aims to make the cities they work in more culturally competent, inclusive and better able to meet the needs of vulnerable people who live there.
Touchstone is also acutely aware of its perceived position of strength as a major provider of mental health and wellbeing services to diverse communities and groups. Touchstone wants to actively share their resources, knowledge and position of influence with smaller, grass roots organisations.
INCLUSION STATEMENT
---
Touchstone is passionate about inclusion of all difference within our organisation.  Touchstone's commitment to Inclusion and Diversity is shared throughout the organisation and is a golden thread in all the work we do.
As a community mental health and wellbeing charity, Touchstone has served the diverse communities of West Yorkshire for over 40 years; understanding the disproportionate impact discrimination and oppression have on our mental and physical health, and working tirelessly to eradicate health inequalities that compound this disadvantage.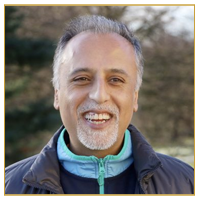 CEO STATEMENT: ARFAN HANIF (HE_HIM)
I am very proud to be CEO of Touchstone, an organisation I started as a service user in, about a decade ago.  I and Touchstone are passionately committed to developing and sustaining a diverse world class workforce which supports inclusive service delivery outcomes.  We have an intelligence led approach to inclusion and this is built into all aspects of decision making.
Touchstone is very privileged to have a talented diverse workforce with staff reflecting different communities, identities and lived experiences.  We are proud of our record of employing staff from diverse backgrounds and lived experiences who have thrived and advanced into senior roles in Touchstone. In 2022, 34% of staff were BME, 72% were women, 23% LGB, 11% disabled and 8% Trans/Non-Binary.  In terms of the Senior Leadership Team half are BME, third LGB, third disabled and half are women.
To support our diverse staff we have BME, LGBTQ+, Neurodiversity, Disability, Inter-Faith/Belief and Menopause staff support network groups led by staff.  To support allyship we have an 'Allies Together' staff group which I proudly chair. To support career development, we have developed management training targeting staff from under-represented groups including mentoring support from members of the Senior Leadership Team.
We believe being an inclusive employer leads to better service delivery and business outcomes and we use our leadership to influence others to do the same. We are proud to be considered leaders in the area of Inclusion and we willingly share our good practice with others.
For Touchstone Equality, Diversity and Inclusion is not an agenda item it's in our DNA, its core to our business and is critical to us being an inclusive employer and service provider.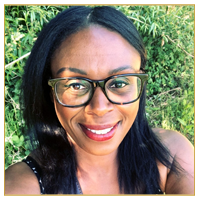 Sharon Brown (She_Her)
Sharon is the Business Development Director for Touchstone and joined the organisation in January 2021.  Sharon has over 25 year's experience working in Operations and Development for a number of Housing Associations and Charities in Yorkshire and has led the development  of health, wellbeing and homelessness services for Asylum Seekers & Refugees, Women, Older People, and People in contact with the Criminal Justice system.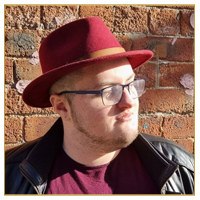 Quenby Harley (They_Them)
Quenby works as a researcher, data analyst, and community development worker for Mentally Healthy Leeds. In their free time they also write about LGBT+ issues and engage in queer activism as non-binary artist.



Ranked No.3 – 2022/2023
Ranked the UK's 03rd Most Inclusive Employer, this is the 5th time Mental Health and Wellbeing Charity Touchstone has ranked in the top 3 on The Inclusive Top 50 UK Employers List, showcasing exceptional levels of representation across all protected characteristics at Senior Management, Executive and Board level. The Leeds based charity was born in 1982 after it was acknowledged that large numbers of vulnerable people were left feeling isolated and distressed. 40 years on and Touchstone provide services to over 10,000 people per year, operating across Yorkshire and delivering a wide range of diverse mental health and wellbeing services from preventative to Intensive support.
The charity, which is home to 270+ employees, is acutely aware of their perceived position of strength as a major provider of community based services and have shown enthusiasm for sharing their resources, knowledge and position of influence with smaller, grass roots organisations. They currently boast accolades such as being an accredited Investors in People Platinum (2022 winner of national big employer Investors in People Platinum Award), an accredited Investors in Volunteers, 'World Class 3 star' Best Companies and top 100 Stonewall 'Gold' employer.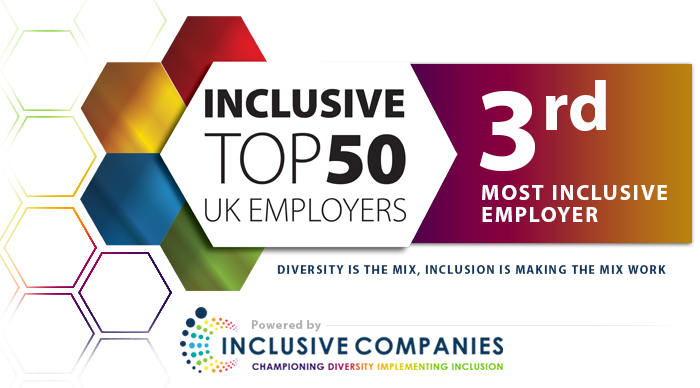 ---

Being ranked as the third Most Inclusive Employer in the UK in 2022/3 was an immense privilege and a true reflection of our brilliant workforce's drive to make our charity, Touchstone, one of the very best places to work for in the UK. As Touchstone works with diverse communities across Yorkshire, we absolutely prioritise that our workforce is inclusive, supportive, thrives and is fully representative of those communities. Our work with Inclusive Companies has meant we have been continually supported and recognised in our ongoing development, enabling us to share our inclusion work more widely, better support our growing workforce and reach more people across our diverse local communities.
---