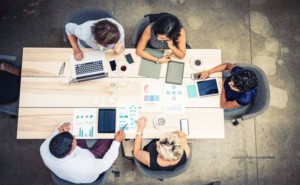 The UK has been praised for its 'substantial proportional increase' in gender diversity in a global report by index provider MSCI, but overall progress on global female board representation has taken a step back.
The annual report Women on Boards looked at the 2,700 global companies making up its MSCI All Country World index (ACWI) as of 16 October 2018.
Out of 102 UK companies surveyed, 29.1% of directorships were held by women, up from 26.8% in 2017.
There were no UK companies which had an all-male board and 71.6%, representing 73 companies, had three or more women on their board.
How improving gender equality can boost corporate performance
"Among developed markets, Australia, the UK, Ireland, Netherlands, the US, Canada, and France all saw substantial proportional increases in women on boards," MSCI said.
"The UK and Spain were the only countries in the top ten to meaningfully increase their proportion of companies with three or more women on their boards, with a percentage point increase of 7.3% and 6.2%, respectively."
However, global efforts to reach 30% female representation among corporate directors have taken a step back, forcing MSCI to push back its projections of when this could be achieved by two years to 2029.
The report also revealed that over a fifth of all the MSCI ACWI index companies still had all male boards and nearly all still had majority male boards, while the increase in female representation at the CEO level continues to be very slow and has even taken a step back in developed countries in 2018.
The report said: "Of the 99 firms with a female CEO, 26 were American, with China (17), the UK (eight) and Australia (six), accounting for much of the rest.
"However, progress in CFO positions is much more encouraging, with highlights including Thailand, Malaysia, Taiwan, and China."
UK pushing ahead
There has been a big push in the UK for improving gender diversity in recent years including the mandatory publication of gender pay gaps for firms with more than 250 employees, although there are no official government quotas like some countries such as Ireland and South Africa.
UK drinks manufacturer Diageo was highlighted as one of only 11 companies worldwide where the board was majority female at 54.6%.
2018's key diversity initiatives
Looking at chief executive positions, 7.8% of the UK firms tracked by MSCI had a female CEO. This was one of the highest figures for developed markets worldwide, compared to zero firms in Germany, 3.2% of firms in Canada and 4.5% in the US.
Worldwide, the financial sector was noted as doing particularly well with 41.4% of financial firms, representing 187 companies, having three or more women on their boards.
This was the highest of all 11 sectors tracked by the index provider with the technology sector being worst at diversity with only 15.5% of firms having three or more women on their board.
Source – www . Investment Week . co . uk