The Inclusive Companies Awards 2019 Judges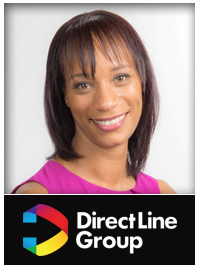 Jennifer Thomas | Direct Line Group | Head of Internal Communications, Experience & Sustainability
Jennifer Thomas has risen quickly to the top as a corporate communicator, having been talent-spotted for rapid promotion at every company she has worked for. Currently, Jennifer is transforming the profile and reputation of Direct Line Group (DLG), now as Head of Internal Communications, Experience & Sustainability and previously as its Head of Financial Communications. Jennifer is part of the Group's Strategic Leadership Team, responsible for developing the Group's internal communications strategy, including employee engagement, the incorporation of the employee value proposition and corporate brand as well developing and executing a new corporate social responsibility strategy. Jennifer was involved in the IPO of RBS orchestrated by DLG and the biggest stock market listing of 2012. Jennifer had a former career as a UK Championships 400m runner and hurdler for England.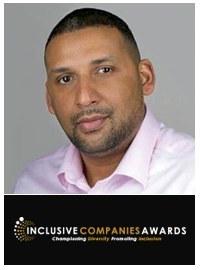 Paul Sesay | Inclusive Companies Awards | Founder & CEO
Paul Sesay is the Founder and CEO of the Inclusive Companies, Inclusive Top 50 UK Employers, National Diversity Awards and events company I Spoil U Media Limited since 2006. Paul's business acumen has mainly been with a social focus.
With over ten years worth of experience within the Diversity, Equality and Inclusion sector, Paul has worked with some of the largest organisations in the world on their diversity and inclusion profiles. He has also worked within local communities to help people from various backgrounds to achieve and empower disadvantaged groups throughout the UK. Paul's initiatives have helped many thousands of organisations and individuals get recognised for their hard work and dedication to diversity.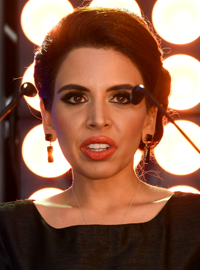 Dr. Bijna Dasani
Bijna has 19+ years of professional experience and has worked across EMEA, the Americas and Asia. She has a robust track record of delivering successes for global Banking and Financial Services.
Bijna serves the Boards of FinTech Connect, CIONet, IPQC CDO Exchange, and the Inclusive Companies Network. She is a FinTech Mentor and films videos on Mentorship, Leadership & Technology.
Bijna is a Fellow of the RSA, St. George's House, Windsor Castle and an Associate Member of Oriel College, University of Oxford.
Bijna advises / advocates for a diversified portfolio of Business, Technology, Social Impact, I&D causes. She has spoken to global audiences at Deloitte, Edinburgh DataFest, Amazon, Sky, Lloyds Banking Group, Universities (Auburn, BPP, Edinburgh, De Montfort, Imperial College London, Oxford, Sheffield), Appway, CIO NEXT, Bloomberg, Retail Banking Forum Europe, FinTech Connect and others. She serves as a Host / Judge / Speaker for a portfolio of events and awards.
Bijna has been recognised as one of the Innovate Finance Women in Fintech Powerlist (2019-18), one of the #TechWomen100 (2019), as 'Business Role Model of the Year' by the Women in IT Awards & Amazon (2019), by the Lloyds Banking Group Top 100 BAME Role Models List (2019, 2018) as a 'Global Champion' (#60) of the Top 100 Executive #FTHERoes18 by the Financial Times (2018), with an Honorary Doctorate from De Montfort University (2018), by felicitation at the House of Lords (UK), at the NRI Pride of India World Summit (2017) for 'Making India Proud'. Bijna is credited as one of the Top 50 Visionary Young Leaders in Business, by Henley Business School (2017), one of 35 leading British Business Women under 35, by Management Today, Accenture and The Telegraph (2015) and has received recognition with 15 further honours including the National Diversity Awards (2012) and the Asian Women of Achievement Awards (2010). Bijna is also the International Women's Day Young Achiever of the Year (2006).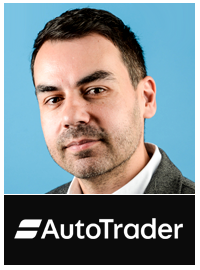 Christos Tsaprounis FCIPD | Auto Trader UK | Head of People & Culture
Christos is a people geek and a diversity & inclusion advocate with a career across different industries ranging from digital to social housing. He spent four years at the Co-operative Bank before joining Auto Trader in 2014 where together with his brilliant team he focuses on creating a space where everyone's uniqueness is celebrated and is empowered to thrive by being their authentic, true and best self. Driven by his passion for equal opportunities for all people, he leads the D&I and CSR strategies of one of the most admired digital businesses in the UK and 2018 Top 50 Inclusive Companies.
Born in Athens and moved to the UK in 2002 to complete his MSc in Human Resources at The University of Manchester after completing studies at the American College of Greece and the London School of Economics; he fell in love with the city and its people so he decided to make it his home. He is a actively involved in making a difference working with leading charities including Survivors Manchester, Leonard Cheshire Disability, Manchester Pride and Forever Manchester. Recognised for his contribution to his industry he is a Fellow of the Chartered Institute of Personnel & Development and the recipient of the Lifetime Achievement Impact Award by the Recruiter Magazine in 2018"
---
"The Inclusive Companies Awards celebrate the remarkable achievements of individuals and organisations across a wide spectrum of diversity. I am excited to join the judging panel this year and find out about the brilliant work being done and help recognise the progress made to create working environments that enable everybody to thrive"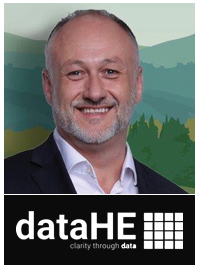 Andrew Hargreaves | dataHE | Co-Founder
Andrew is co-founder of dataHE and friend of the Inclusive Companies Awards.
Prior to founding dataHE Andrew has held a number of Executive leadership roles, laterally in the higher education sector with UCAS.
Andrew has been an active advocate, teacher, student and ambassador for equality and inclusion throughout his career, his passion being the 'potential of the human'.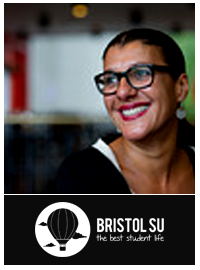 Samantha Budd | University of Bristol Students' Union | Chief Executive
Sam is the Chief Executive of the University of Bristol Students' Union and has over 30 years of senior experience within the recruitment, training and education sectors. She has held several non- executive and trustee roles including most recently: membership of strategic advisory committees for the Higher Education Funding Council (HEFCE); trustee of NUS Charitable Services: board member of NUS Poverty Commission and a trustee of the Bristol Museums Development Trust.
Sam has a particular interest in equality, diversity and inclusion  and as well a number of awards achieved by the Union in this field  she was personally short listed as Chief Executive of the year 2016 by the National Centre for Diversity, awarded the 2018  Simpson King Staff achievement Award by the national union of students  and recently received the 2018 Diversity Champion- Education Sector at the Inclusive Companies awards. She was a member of the University of Bristol EDI Steering Group and the Bristol Racism Taskforce set up to address racism on campus and beyond. She has worked in an advisory capacity with NUS to shape the Race Matters agenda and has been involved in the development and implementation of Careers in Students' Unions the new employer brand that has been created to improve the diversity of the sector's workforce.
She is also a passionate advocate for mental health issues and was  a member of the 2018  Bristol Leadership Challenge an ambitious programme, convened by the Mayor's City Office, aimed at addressing the systemic difficulties faced in the Bristol by those citizens experiencing complex mental health problems.
---
"As we start to understand the role that employers have in contributing to the creation of a fairer society, we understand the importance of recognizing and celebrating excellence in the field of Inclusion and diversity. I am very proud to be involved in the judging panel for the 2019 Inclusive Companies Awards as I believe that the traction that these awards are making across all sectors, sizes and types of organisations is extraordinary. The ICAs shine a light on this important agenda and encourages us as business leaders to step up and ensure that we are playing our role and making a difference"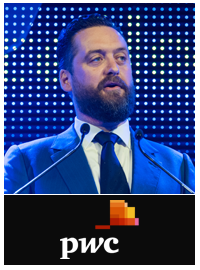 Andy Woodfield | PwC | Partner
Andy started his career straight from school working as an Engineering Design Apprentice. After completing an HND in Computing, Andy spent the next few years working in IT consultancy, project management and IT management.
In 1998 he joined Price Waterhouse in London as a Cyber Security Consultant focused on Ethical Hacking.
Andy was admitted into the PwC Partnership on the 1st of July 2006. Andy is now the Lead Partner for the International Aid Development Consulting practice at PwC in the United Kingdom.
Working primarily with the UK Department for International Development (DFID) and the UK Foreign and Commonwealth Office (FCO), they use the Global network of PwC member firms and associated subject matter experts to improve the lives of the poorest and most vulnerable in the world and to promote sustainable economic development and prosperity. As well as his market facing International Development role, Andy is also part of the People Consulting competency responsible for the development and delivery of Leadership, Culture, Talent and Inclusion programmes within PwC and with Clients, with a focus on helping individuals, teams and organisations to be the best that they can be, unlocking their full market and individual human potential.
Andy has developed a number of ground breaking human development programmes including 'Building Strength in Leaders', this programme leverages both positive and cognitive psychology to help leadership teams build strength in preparation for and following traumatic business change. At the heart of the programme is a workshop that Andy developed a few years ago for the PwC Global Talent programme, this workshop 'Genius. Power. Dreams'(www.geniuspowerdreams.com) aims to help individuals and teams understand and respect their unique strengths and talents, understand how to use them more often, and finally to consider their legacy of life.
Andy is the sponsoring Partner for the firms inclusive business network, GLEE@PwC. This is an inclusive business network for gays, lesbians and everyone else, it's open to everyone including clients and those in our extended networks and you don't have to be gay or lesbian to join it, you just need to be passionate about valuing and exploring difference as something we all have in common. (www.pwc.co.uk/glee). He is a regular public speaker, usually focusing on the Strengths based development and Diversity and Inclusion. He has completed two TED Talks and has recently spoken on Gender Equality at the United Nations HQ in New York.
Andy is a Trustee for the charities: Diversity Role Models, Action Breaks Silence and Opening Doors London. He is a judge for the National Diversity Awards, the Inclusive Business Awards, the We Are The City Rising Stars and the head judge for the Australian LGBTI Awards.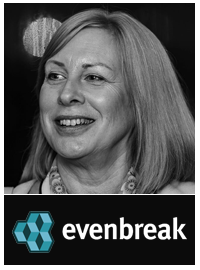 Jane Hatton MSc FCIPD FRSA  | Evenbreak | Founder
Jane has worked in diversity since 1990. She founded Evenbreak in 2011, an award-winning social enterprise run by and for disabled people. This helps employers attract talented disabled people through a specialist online job board. Evenbreak is entirely staffed by disabled people. Jane runs Evenbreak either lying down with her laptop above her, or standing at meetings and events due to a degenerative spinal condition.
Jane is widely published in this field, including the book "A Dozen Brilliant Reasons to Employ Disabled People". She is a Trustee of two disability charities, Patron of the Inclusive Skills Competitions and on the executive board of the Recruitment Industry Disability Initiative. She was also a recruitment expert in BBC2's "Employable Me".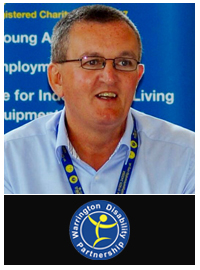 Dave Thompson MBE DL MBA | Warrington Disability Partnership | Founder and Chief Executive
Dave is the founder and Chief Executive of Warrington Disability Partnership, a user led organisation, employing over 50 staff and nearly 200 volunteers. Together they provide a wide range of independent living services including two Independent Living Centres, Direct Payments and Payroll Services, Shopmobility, Inclusive Sports, and a number of Employment and Educational contracts.
Until April 2015 Dave worked as a senior manager in the NHS. He started out his 20 year career as the UK's first full-time Disability Advisor. Completing his NHS career as the Assistant Director of Inclusion where he led on equality & diversity, patient & public involvement and social inclusion. Dave has been involved in a number of high profile initiatives working with NHS Employers and NHS England, including policies and procedures still used across health and social care services.