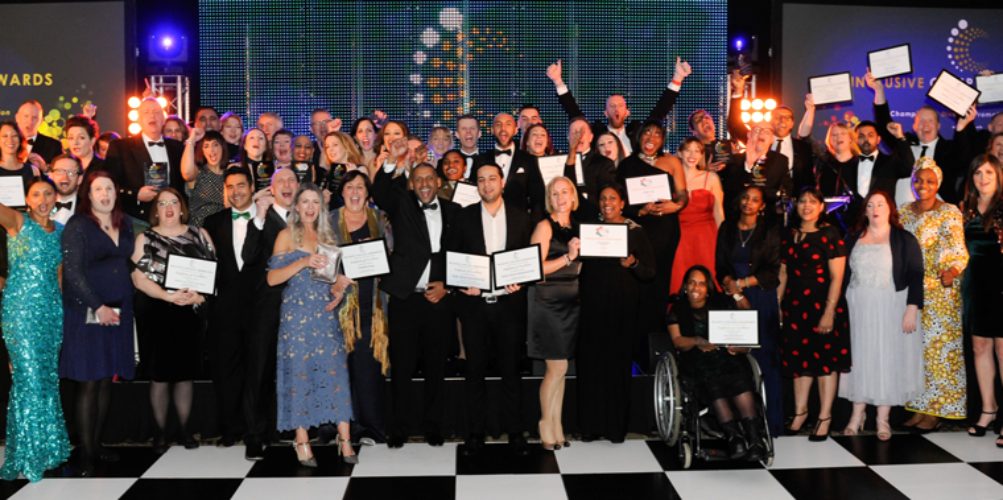 Inclusive Leaders Honoured at National Awards
One of the most familiar faces on ITV Weather, TV Presenter Alex Beresford took centre stage on 15th November to host the Inclusive Companies Awards, celebrating inclusive employers and diversity champions.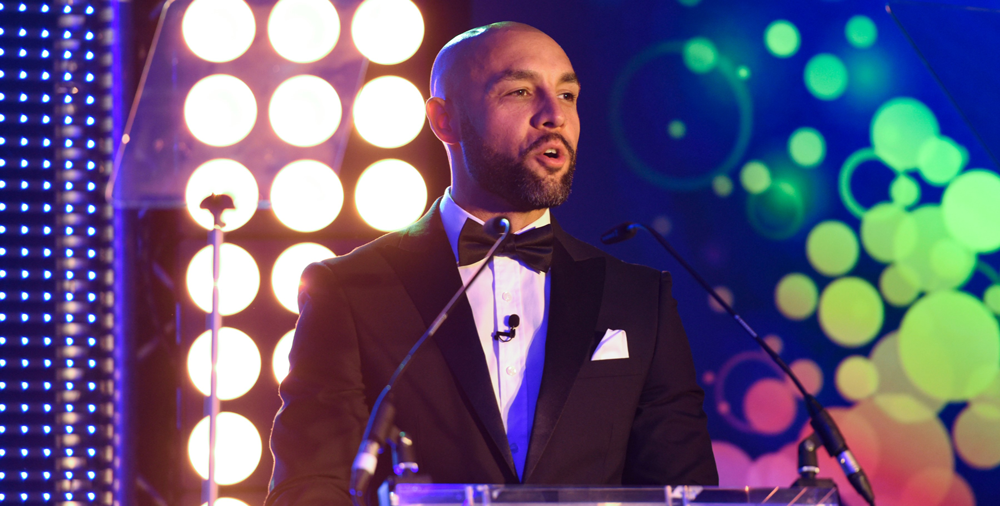 COMPANIES and role models nationwide have broken boundaries to strengthen UK diversity, and were honoured for their extraordinary commitment to the equality agenda at Thursday's ceremony, at the Midland Hotel in Manchester.
This year perhaps more than any other in recent history, we have needed the power of unity to overcome times of adversity. In these moments of crisis, champions have emerged to lead in a vital movement towards a more united society.
The Inclusive Companies Awards have reflected upon the thousands of people who have shown resilience, determination and courage to deliver change, highlighting an elite mix of diversity ambassadors who work tirelessly to make the country a more inclusive place to live and work.
Diverse Companies, Employees of the Year, Best Diversity Resources, Heads of Diversity, Outstanding Networks, Diversity Champions, Marketing Campaigns and Lifetime Achievers were all recognised in a celebration that delivered the best of British diversity across all UK industries.
The one-of-a-kind ceremony kicked off with a keynote speech from retired British Airways Captain Catherine Burton, and a passionate display from recognized cover model, Celebrity Big Brother All Star and gay rights activist Austin Armacost.
Known for his motivational speeches, Founder Paul Sesay (pictured below) didn't disappoint as he addressed the audience. 'With every news report and article of events happening across the world, it is now even more important than ever to stand together', said Sesay. 'It is your stories and commitment that enable this, so I encourage you to share how you enabled that change in yourself or others, and how every day you inspire hope.'
A number of special guests made an appearance at the prestigious black-tie event including Hollyoaks' stars Rishi Nair, Jimmy Essex and Annie Wallace; the first transgender person to play a regular transgender character in British soap history. Coronation Street Star Shelley King and Emmerdale actor Bhasker Patel also showed their support alongside singing sensation Marcus Collins.
Paul Mckenzie was awarded the Diversity Champion Award in the Charity sector for educating young people about the dangers of drugs, gangs, knives and guns over the last 20 years; and Samantha Budd, the first black female Chief Executive in any Students' Union in the UK was recognised in the Education category for transforming Bristol Students' Union from an organisation that was failing to one that is thriving.
Raj Tulsiani, CEO of Green Park and one of the UK's leading figures in executive search and interim management, accepted the accolade in the Private sector category. Barry Boffy, D&I Manager for British Transport Police was recognised in the Public sector category having campaigned tirelessly for better practices in Policing.
Former Chair of the Ministry of Justice LGBT network, Charlotte Jackson received the Employee of the Year Award; and Coral Taylor, Inclusion Business Partner at Amey was honoured with the Head of Diversity & Inclusion Accolade.
Another highlight of the evening came when Lloyds Bank scooped the Marketing Campaign of the Year Award for #GetTheInsideOut. The extraordinary films which have been watched by millions, are based on the well-known sticky note game 'who am I?', widely recognised in the UK. Instead of guessing who they are, celebrities, bank colleagues and members of the public try to work out what mental health problem they've been given.
Founded in 1995, The Black Solicitors Network (BSN) accepted the Outstanding Diversity Network Award as the primary voice of black solicitors across England and Wales. It currently has a membership of over 4,000.
Named 2018's Best Diversity Resource, BT's TechWomen Programme was hailed for readdressing the gender balance at the company. So far, they've reached more than 600 talented women around the world and the programme continues to grow.
After decades of training people, businesses and organisations in confidence building, personal safety skills and self-defense techniques, Alan Bell was the recipient of the prestigious Lifetime Achiever Award. A list of tremendous achievements were recognised by judges, including the extraordinary impact Alan has had on the lives of over 5,000 individuals.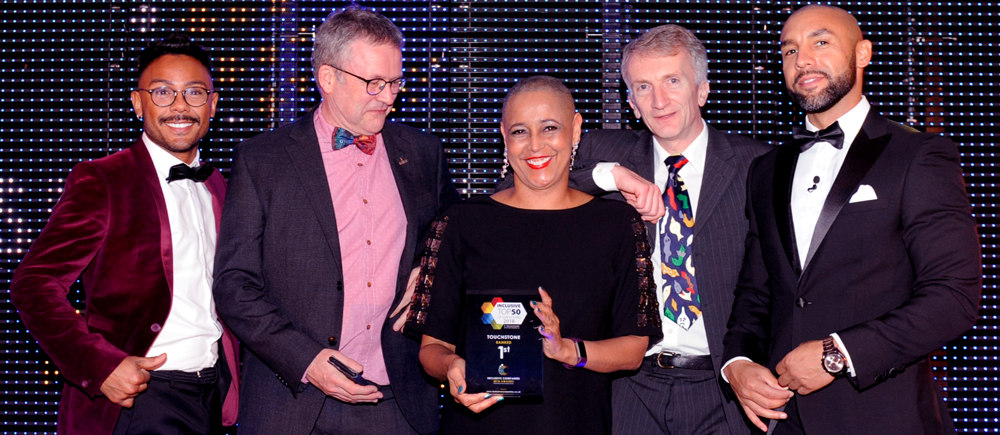 The widely anticipated rankings of the Inclusive Top 50 UK Employers List were also revealed, with mental health and wellbeing charity Touchstone (pictured above) featuring at number 1 for a third year running. West Midlands Fire Service (2nd) Sky (3rd) EY (4th) and Mott MacDonald (5th) were listed as the top 5 most inclusive companies nationwide.
Compiled by a dedicated panel of judges, the list has been collated based on each organisation's performance in a range of areas within the diversity arena. Organisations featured provided sufficient evidence on an amalgamation of topics including recruitment procedures, training and a host of diversity related initiatives.
Heather Melville OBE, Director & Head of Client Experience at PwC said, "This list presents the very best of UK companies who are integrating an inclusive culture right from the top of their organisations – it's great to see the mix of cultures and the amazing initiatives that are being led by their employees with support and funding."
Receiving a whopping 132 Gold Medals at this year's Dance World Cup, Liverpool based company Jelli Studios provided a host of amazing performances throughout the evening and are home to performers who have placed 3rd in Britain's Got Talent, performed on the X Factor and appeared on Lifetime's Dance Mums UK.
A panel of judges including Andy Woodfield (PwC), Pamela Hutchinson (Bloomberg), and Dr Bijna K. Dasani (Lloyds Banking Group) gathered earlier this year to finalise the widely anticipated shortlist. The full list of winners is as follows:
Diversity Champion Charity: Paul McKenzie
Highly Commended: Steve Whitmore
---
Diversity Champion Education: Samantha Budd
Highly Commended: Pam Evans
---
Diversity Champion Private: Raj Tulsiani
Highly Commended: Christina Riley
---
Diversity Champion Public: Barry Boffy
Highly Commended: Najib Obaid Babakerkhail
---
Head of Diversity & Inclusion: Coral Taylor
Highly Commended: Fiona Daniel
---
Employee of the Year: Charlotte Jackson
Highly Commended: Craig Downing
---
Diverse Marketing Campaign of the Year: Lloyds Bank #GetTheInsideOut
Highly Commended: One Voice – I'm not a Muslim but I will fast for one day
---
Best Diversity Resource: BT plc – TechWomen Programme
Highly Commended: Clarion Housing Group – Train-The-Trainers Programme
---
Outstanding Diversity Network: The Black Solicitors Network
Highly Commended: Building Equality
---
Lifetime Achiever: Alan Bell
Highly Commended: Jackie Hewitt-Main OBE
---
As the year comes to a close and we look ahead to 2019, it is clear that the game changers and trail blazers will continue to promote equality of opportunity for all, giving every individual the chance to achieve their potential, free from prejudice and discrimination.
There is no doubt that the impact made by this prominent array of diversity patrons is unprecedented.
CLICK HERE to view the 2018 Image Gallery
To view the Inclusive Top 50 UK Employers List, please visit www.inclusivetop50.co.uk/2018rankings