Inclusive Top 50 UK Employers Judges
---
Jiten Patel
Diversync | Director
Jiten is an award-winning EDI strategist, and practitioner, a published author and blogger on matters pertaining to Inclusion through diversity. He has a background in Financial Services and, upon leaving his Diversity and Inclusion role at HSBC, Jiten set up his own company in 2001 and has worked with a vast range of clients from Blue Chip companies all the way through to small local charities.
As well as all the four nations of the United Kingdom, his work has taken him to continental and Eastern Europe and India. He was the winner of the Diversity Champion (Education Sector) award in 2015 and received the 'Highly Commended Head of Diversity and Inclusion' award at the 2016 and 2017 Inclusive Company Awards. He was also a top 3 finalist at the 2011 Race for Opportunity awards for the design and development of his highly successful 'Aspire~' Positive Action Programme. He was also the original creator of the Civil Service Learning's Positive Action Programme, Positive Action Pathway, which witnessed some 30% of staff achieving career related moves as a result of attendance on the programme.
In his spare time Jiten has been involved a variety of charitable work; he is a past Chair of 'Working Families' a charity specialising in assisting people and employers to implement effective agile working to facilitate work-life-family commitments. Since 2002, Jiten has a trustee of a number of charities. He is currently a Trustee at 'MK SNAP' (a charity specialising in the needs of post 16 learners with learning disabilities) and the LPSOL (focusing on supporting people from South Gujarat who have settled in the UK).
Jiten's first book, Demystifying Diversity (co-authored by Gamiel Yafai), was published in 2016 and is currently going into its second edition which will include new content about Cognitive Diversity.
---
Paul Sesay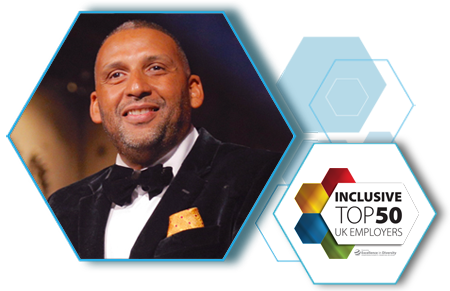 The Inclusive Top 50 UK Employers | Founder & CEO
Paul Sesay is the Founder and Chief Executive Officer of the Inclusive Top 50 UK Employers, National Diversity Awards, Inclusive Companies Awards and The Diversity Group since 2006. Paul's business acumen has mainly been with a social focus.
With over fifteen years worth of experience within the Diversity, Equality and Inclusion sector, Paul has worked with some of the largest organisations in the world on their diversity and inclusion profiles.
He has also worked within local communities to help people from various backgrounds to achieve and empower disadvantaged groups throughout the UK. Paul's initiatives have helped thousands of organisations and individuals get recognised for their hard work and dedication to diversity.
---
Do-IT Profiler | CEO
Professor Amanda Kirby is very unusual and has unique experience of straddling health, education, and the workplace.
She is a qualified GP but changed career when her 2nd child was diagnosed with Dyspraxia at 3 years of age. Her experience and frustrations ( at times) as a parent finding her way around the health and educational system led to her consequently starting up an interdisciplinary specialist centre for parents and children ( later on adults) more than 25 years ago in order to be able to provide practical robust support.Her family is very neurodivergent and this has provided her with a unique understanding, insight and a passion that continues to raise awareness and champion best practices.
She is an emeritus professor at the University of South Wales. She has lectured to more than 100,000 individuals worldwide, written over 100 research papers and become internationally recognized in the field of neurodiversity as both a clinician and researcher. Over the years she has written 9 books for children, parents, the health and educational professionals and for the workplace and have been translated into different languages.
She has delivered consultancy, tools and training to organisations including South Wales Police, Admiral, RAF, JP Morgan and for DWP and MOJ.
Amanda's skill lies in her being a collaborator and a knowledge translator. This allows her to traverse disciplines and bring interdisciplinary working together.
Amanda leads with evidence-based research and uses this information to develop robust ways to provide practical solutions that make real changes for families and clinicians. Her Ph.D. ( after she became a professor) was relating to to the changes that go on in adolescence in emerging adulthood and she developed screening tools which are now used internationally into work and in the workplace.
Amanda has been on government advisory boards (e.g. Hidden Impairment National Group) as well as advising UK and international charities in the field of neurodiversity. This includes being a patron of the Dyspraxia Association in New Zealand, Chair of Movement Matters UK and works with great UK charities including the Dyspraxia Foundation, British Dyslexia Association, North East Autism Society, and is a trustee of the ADHD Foundation campaigning to embrace neurodiversity. She acts as a clinical advisor to the Witherslack group.
Ten years ago she realized to reach and support more people effectively she needed to develop web-based solutions. Too many children and adults needs were missed or being misunderstood and this was potentially costing thems and society a lot of money
Amanda is currently the CEO of Do-IT Solutions, a tech-for-good company, and has developed unique person-centered computer profiling tools and apps to support neurodiverse children and adults in a range of contexts including education, prisons, and employment settings used nationally and internationally. She has developed accredited accessible e-learning courses for employers in partnership with the ADHD Foundation to raise awareness and increase inclusive practice. Raising standards are important to Amanda and Do-IT Solutions were the first company in Wales to gain Disability Confident Leader status.
During Covid-19 she has delivered webinars to more than 5000 professionals nationally and internationally including for Inclusive Companies, DWP Ability Network, for MOJ, and ERSA to name a few. She has recently been delivering a programme called "Survive, Revive and Thrive – wellbeing for you and your teams" and has developed a wealth of freely available resources.
Amanda's passion to make changes in society and increase the chances of showcasing talents in neurodiverse children and adults into and especially in work settings remains as strong as it was 30 years ago.
---
Graeme K Whippy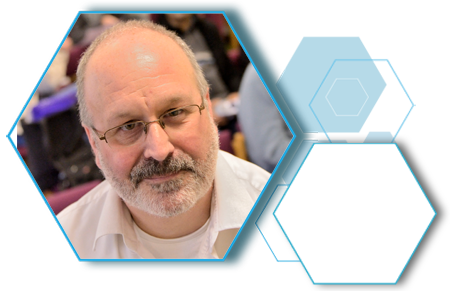 Graeme K Whippy is a disability consultant who helps organisations become brilliant employers for disabled people, and consequently brilliant employers for everyone.
A career in IT starting in the 80s led him to becoming an expert in Digital Accessibility in the early 00s. His work in this field was recognised in 2009 by being awarded Outstanding Contribution by an Individual at the UK Financial Sector Technology Awards. In 2010 he wrote the procurement annex for BS 8878, a British Standard on Web Accessibility.
Transitioning into a full time disability management role at Lloyds Banking Group in 2010, he become recognised as an expert on matters relating to disability in business and a well-known agent of change.
His key achievements included creating an award-winning approach to making workplace adjustments for disabled employees at Lloyds Banking Group, and leading the creation of the Dementia Friendly Financial Services charter whilst representing the UK banking sector on the Prime Minister's Dementia Challenge 2012-15.
Now an independent consultant, Graeme takes a pan-business approach to helping companies embed best practice on disability and inclusion with workplace adjustments as a core focus. His clients include Channel 4 Television (where he was their Disability Specialist and created their much lauded free guide for the media sector on employing disabled talent), Viacom International Media Networks, and Financial Ombudsman Service.
In 2012 he was a member of the steering committee that formed the government's Disability Confident scheme and still works closely with the Office of Disability Issues on the scheme and other elements government support such as Access To Work and the recently published framework for voluntary disability data reporting.
Graeme was awarded an MBE in 2016 for his services to people with dementia and disabilities.
---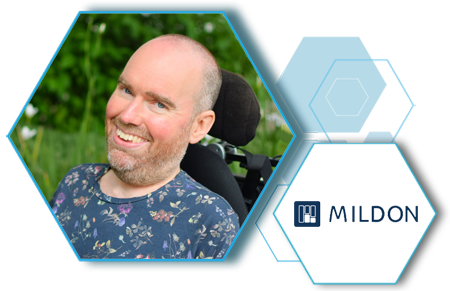 Toby Mildon
Mildon | Founder
Toby Mildon is a Diversity & Inclusion Architect and founder of Mildon, a consultancy and advisory business. Toby works with businesses to re-engineer processes and systems to minimise the impact of bias and build a culture of inclusion. Prior to setting up his business, Toby worked as an in-house diversity and inclusion manager at the BBC and Deloitte.
---