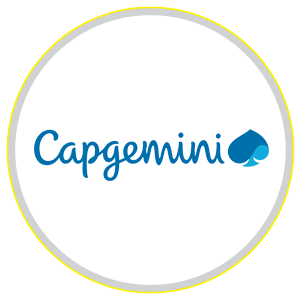 Ranked No.2 – 2022/2023
Once again ranking in the top five of the Inclusive Top 50 UK Employers List, Capgemini cemented its position of 2nd place, in recognition of the company's continued dedication to workplace diversity and inclusion. Capgemini is a global leader in partnering with companies to transform and manage their business by harnessing the power of technology, with over 12,000 employees in the UK. A responsible and diverse organisation, the company is guided everyday by its purpose of unleashing human energy through technology for an inclusive and sustainable future.
Paul Margetts, Managing Director, Capgemini UK said, "At Capgemini UK, we know that diversity and inclusion is critical to our success – it underpins our people's experience at work, it's integral to building relationships with our clients, and it's key to innovating for the sustainable and inclusive future that we want. On a personal level, I am proud to be a member of our Group Diversity & Inclusion Board and to sponsor Active Inclusion in the UK."
---
Capgemini's Group Executive Committee and Group Diversity & Inclusion Board drive global diversity policy and initiatives. As a member of the latter, Paul Margetts ensures the diversity and inclusion strategy is reflected in the priorities and responsibilities of UK senior leadership. In the UK, the Country Board sponsors the company's Active Inclusion strategy, with each Board member accountable for actions within their business areas.
As well as recognition as one of the UK's Most Inclusive Employers, in the last six years Capgemini has consistently ranked in the Times Top 50 Employers for Women, is a Silver Employer recognised by Stonewall, and is in the top 75 employers in the Social Mobility Index. This enviable position as a leader of diversity and inclusion in the market is impressive, and Capgemini is committed to further and continual progress.
---
View the full Case Study as an Inclusive Companies Member
---