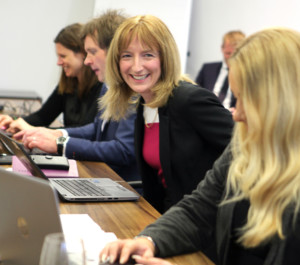 Dawn Moore, director of Human Resources at Morgan Sindall Construction & Infrastructure
From the outside, construction may often not seem a particularly attractive or inclusive sector to historically under represented groups. Many people's understanding of the industry has been based on very traditional perceptions about the culture, environment and ways of working that don't always dig deeper into the fantastic opportunities the sector can offer people. In fact, in organisations like Morgan Sindall Construction & Infrastructure, diversity and inclusion is now at the heart of what we do.
Since I joined Morgan Sindall Construction & Infrastructure nearly five years ago, we've been working hard to instil new ways of thinking and working throughout the company wherever we can that will improve our diversity and create opportunities for better inclusion. Gender is a key issue, but we've also been keen to address other vital areas such as better BAME representation and disability in the workplace. Having said that, it's important to note that such initiatives or changes cannot be rushed into and it takes time to start seeing results. There is no short term fix, but activities can be initiated which steadily result in a long-term culture change.
In any company, this will not always be easy and may result in some difficult conversations with colleagues on occasions. People who have worked in a profession or a particular sector for a long time, while consistently achieving results, may struggle to appreciate why change is needed. It is important to convey why it is important for the workplace to reflect the society we live in, both for the benefit of the individual and the company as a whole. It is also crucial to very clearly link those debates to how doing things differently will help the company address challenges it is currently facing, such as skills shortages. Such conversations will result in improved work place environments and, ultimately, better results for the company.
As an example, last week marked National Autism Day, and this was an excellent opportunity for us to highlight the vital role our colleagues with autism have in our company. This was also an apt occasion to demonstrate how we are adapting our ways of working to ensure that those with the condition are able to access employment opportunities, should they want to, and are adequately supported once hired.
Autism effects people in different ways, and it can often cause misunderstandings for both the individual with the condition and those around them. There is absolutely no reason, however, why people with autism cannot thrive in the workplace and therefore it's disappointing that only 16% of autistic people are in full time employment compared to 48% of disabled people as a whole.
We've recently instilled measures to ensure that, with the support of their colleagues, autistic members of our team will receive all the support they need to reach their full potential. Education is key, and therefore we've developed a training programme for line managers on how to implement strategies for managing people with autism – such as being very clear when issuing instructions and providing more emphasis on processes than would normally be used.
Our commitment to continually improve how we support people with disabilities both into and at work was recently evidenced by our joining into partnership with the Business Disability Forum. In order to create buildings and structures to benefit the UK's population, we need as varied a workforce as possible to deliver them. We are also aware of our social responsibility and aim to provide job opportunities for as wide a group of people as we can. We're doing well at the moment, but we always want to do better and working with bodies representing marginalised groups, as well as involving as many of our people as possible, regardless of their background, is key in learning how we can improve.
The previously mentioned wider social responsibility fuels our commitment to the geographical communities that we work in too. For example, in Cumbria we have set up All Together Cumbria, a social enterprise that supports local businesses in recruiting locally skilled people and is aimed at leaving a long term positive legacy in the local community. This is non-profit making and is about providing opportunities to people through education and retraining. A key element of All Together Cumbria is getting people into work who, for whatever reason, face barriers.
Breaking down such barriers is very important to us at Morgan Sindall Construction & Infrastructure. Our Returnships programme – designed for people returning to employment after a break of 18 months or more – has been a huge success, and part of the reason for that, based on the feedback we have had, is its innovative and flexible nature. Anyone looking to return to work can apply for a role with the opportunity for real career progression, and we can offer flexible working if that suits. Although we didn't set any specific targets when we developed the programme, 70 per cent of our applicants for the Returnships are from a BAME background and 50 per cent from women – a huge improvement on the traditional application profile for the construction industry. We are also proud, among many other programmes, to be involved in the Moving on Up Initiative in London which is sponsored by the Mayor of London, Sadiq Khan. This is aimed at creating opportunities and removing barriers for young black men to enter employment in the construction sector.
All of the examples mentioned here are key to the long term culture change we are instilling at Morgan Sindall Construction & Infrastructure. We will continue to explore how we can attract and, importantly, retain new people in our industry from a wide variety of backgrounds. Our inclusion journey is about everyone, and is built on developing the right culture, ways of thinking and working for the benefit of both current and future employees. This will not only help our business but, more importantly, the construction sector and the wider communities in which we work as a whole.
Source – Morgan Sindall