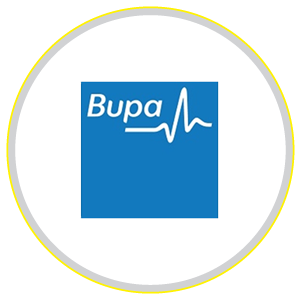 Ranked No.7 – 2019/2020
A robust submission from new entry Bupa has seen the international healthcare group land a strong position on the Inclusive Top 50 UK Employers List, ranking at number 7. With over 25,000 employees and serving over 5 million customers, Bupa Global & UK is a leading player in the health insurance market, also providing services including dentistry, care homes and health services.
As well as services spread across the UK, Global offers international health insurance to over 450,000 customers across the globe. They're also the biggest health insurer in the UK, with Bupa UK providing cover to two million members. Elsewhere they have over 470 dental practices and over 120 care homes, treating 2.4 million patients and caring for over 7,000 residents respectively.
Bupa doesn't just support diversity – they celebrate it and this message echoes across all levels and all areas. Their commitment to embracing diversity starts at the beginning of an employee's journey, and their job adverts promote their inclusive nature before they even walk through the door. Bupa's 'People Place' intranet site is accessible internally across the business and externally, enabling existing and potential employees the opportunity to access information.
This year Bupa has refreshed and relaunched its D&I policy, emphasising its commitment to inclusion in the workplace. From there, the company's recruitment and onboarding policies have clear guidance on making sure they fulfil their responsibilities as an equal opportunities employer.
Following the launch of its 'Everyone's Welcome' pledge and 'Be You at Bupa' campaign in September 2018, plaques are displayed at the entrances of all Bupa offices, reminding colleagues of their culture, and encouraging them to bring their whole selves to work. The organisation is currently rolling out their new employee value proposition and attraction strategies, both of which focus heavily on diversity. Similarly, it continues to review job descriptions and adverts to make sure the messaging is inclusive and encouraging for applicants from all backgrounds. Bupa is also looking to mitigate bias in th recruitment processes and, starting with Executive roles, is using anonymised CVs and blind applications.
Within its Care Services business, Bupa partners with several social organisations and charities, such as Mencap, Leonard Cheshire Trust, The Prince's Trust and Catch 22, sharing entry level job vacancies with them directly. It's also partnered with Barclays for their Connect with Work initiative, to pilot a tailored programme of training and work experience for people aged 18-30, who face barriers to work.
In addition, its 'Be Super at Bupa' programme aims to support people in our communities that may face barriers to work for reasons such as long-term illness, mental health issues, disability. Working with local job centres and other organisations Bupa offers work academies to develop employability skills and confidence to help people into work.
Bupa recently refreshed its recruitment skills training for managers to explore inclusive recruitment activities and the role they play in actively promoting a diverse workforce. It also weaves diversity into the majority of online resources and campaigns, including those around mental health, and celebration events focussing on LGBT+, ethnicity, gender and faith awareness, and national inclusion week.
Elsewhere Bupa recently launched its Be You at Bupa Hub, which will be the 'go to' place for colleagues to learn more about celebrating and supporting difference. The hub will share people's personal stories to inspire others to be themselves as well as useful resources to support an inclusive environment.
Bupa provides all its people and immediate family with a 24/7 confidential 'healthy minds' support line. It has also created an online hub to support colleagues' understanding of mental health, providing resources around common mental health conditions, external links and stories. In its UK insurance business, Bupa introduced Mental Health First Aider training, with their Executive Team becoming the first of any insurer to be fully trained. Over 100 further colleagues have now completed the training.
Since 2015 the Bupa UK Foundation has awarded more than £2.2 million in grants to around 70 organisations to improve mental health, support carers and empower young adults living with ongoing health challenges to live life to the full. Most recently they awarded funding to Groundswell, to help them with their Homeless Health Peer Advocacy programme, helping people experiencing homelessness by providing access to support services. Funding from the Bupa UK Foundation is also enabling the Motor Neurone Disease (MND) Association to develop a training and coaching programme for volunteers to become Carers' Champions. Meanwhile Deafblind Scotland's Raising Expectations project uses funding to provide peer coaching for young people with dual sensory impairment. The project focuses on helping young deafblind adults to develop practical coping strategies and on encouraging them to work towards their personal ambitions and aspirations.
Through its insurance business, Bupa is leading the way in terms of the support it helps organisations provide colleagues. Working with Lloyds Banking Group, they rolled out a pioneering policy for employees, which recognised and covered gender dysphoria. A ground-breaking step for the market, this has now been offered to other clients, including within Bupa – which has trained a whole team of nurses to fully support trans people with both their mental and physical health.
Bupa proactively focus on female leaders to support their career development. Since 2016, two thirds of participants in their Leading @ Bupa programme (in partnership with Future Considerations and Evolve) have been female, preparing emerging talent for leadership roles by investing in their personal growth. Also, since 2016, almost half of participants on the Bupa Advance senior leadership programme (in partnership with Duke) have been female, preparing them for Executive roles. In 2017, Bupa started a partnership with Women Ahead, participating in their 30% Club mentoring programme. In their first year it entered 10 mentoring pairs and doubled this for 2018 and 2019. In 2018, they began its Career Development Essentials campaign. Whilst open to all (in the spirit of inclusion), this informal learning programme was designed with female employees in mind. Of 600+ participants, 80% have been female.
Bupa has a number of engagement initiatives for colleagues, many of which are led by DiverCity and Spark– their employee networks. The networks represent all areas, but with a particular focus on LGBT+, faith, disability, mental health, gender balance, and ethnic diversity.. Through its employee networks Bupa actively drives key activities such as Pride/Sparkle with the LGBT+ community and allies across the UK with the support of their CEO.
Diversity and inclusion isn't just something people believe in at Bupa, but something that runs through everything that the company does. A detailed submission has evidenced that Bupa is on path to create a truly inclusive workplace that celebrates differences, and where everyone is supported to reach their full potential. Though much of the work detailed above has been driven by specific teams and initiatives, it's now reaching a place where colleagues embrace the culture as standard and contribute their own ideas and developments organically.
---